Box Office: Obsessed Is The Biggest Last-Weekend-Of-April Opener Ever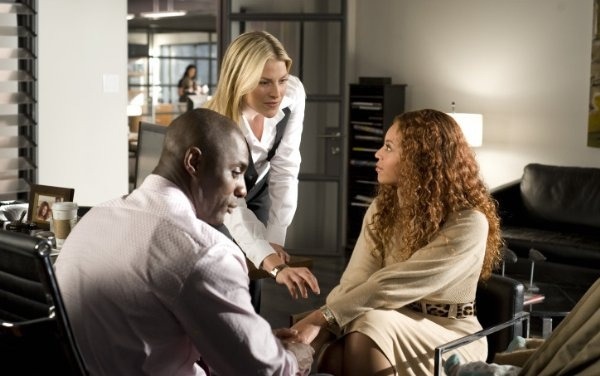 Recording superstar Beyonce Knowles is building a bankable resume for herself as an actress with Sony Screen Gems' Obsessed as the latest title burnishing her resume. Co-starring the excellent Idris Elba (The Wire), this low budget, PG-13 genre pic has scored a far-above-expectations $11M on Friday, and it will likely reach $27.5M for the weekend. That is the best opening yet for the former Destiny's Child lead vocalist as an above-the-title star, topping 2003's The Fighting Temptations and Cadillac Records from late 2008.
OPENINGS FOR BEYONCE MOVIES
1. Austin Powers: Goldmember – $70.3M opening
2. Obsessed – $27.5M opening (projected)
3. Pink Panther (2006) – $20.2M opening
4. Dreamgirls – $14.1M wide break (after a platform start)
5. The Fighting Temptations – $11.7M opening
6. Cadillac Records – $3.4M opening
Now a million-selling solo artist with ubiquitous hits like Irreplaceable and Single Ladies (Put A Ring On It), she is beginning to cash in at the box office. She parlayed supporting roles in Mike Myers Austin Powers: Goldmember and Steve Martin's Pink Panther into the showy Deena Jones role in the film adaptation of Dreamgirls, which topped $100M domestic (although the most of the awards hardware was ultimately taken home by Jennifer Hudson, winning Best Supporting Actress at both the Golden Globes and the Academy Awards). Beyonce received generally good notices for her turn as Etta James in Cadillac Records in December, although the movie was a box office dud with just $8.2M domestic. Now she has managed a surprise hit on her own with Obsessed.
By all accounts the movie is not very good. Sony didn't screen it for critics, and the early reviews trickling in decidedly negative (25% Fresh on Rotten Tomatoes). Perhaps the excellent Pete Hammond from Hollywood.com sums it up best saying, "It's strictly a generic thriller, perhaps the 105th blatant rip-off of Fatal Attraction, but not without its own guilty pleasures." My hunch is that there is some trashy fun here with a "girl-on-girl smackdown" (Geoff Berkshire's words from his review on Metromix.com), and the other girl is the stunning Ali Larter from NBC's Heroes. Still when all is said and done, Hugh Jackman's Wolverine (Fox) and Ghosts of Girlfriends Past (Warner Bros) starring Matthew McConaughey, both due next Friday, are certain to make Obsessed a one-week wonder, and it may get a speeding ticket on its way to home video.
Even if Beyonce's "movie legs" aren't as long as her real (and shapely) legs, Obsessed has set a new opening record for the last weekend of April, traditionally a studio dumping ground for schlock and tough-to-sell movies.
ALL-TIME TOP 10 OPENINGS ON LAST WEEKEND OF APRIL
1. Obsessed (2009) – $27.5M (projected)
2. Mean Girls (2004) – $24.4M
3. Hitchhiker's Guide to the Universe (2005) – $21.1M
4. Baby Mama (2008) – $17.4M
5. RV (2006) – $16.4M
6. Identity (2003) – $16.2M
7. Harold & Kumar Escape From Guantanamo Bay (2008) – $14.9M
8. XXX: State of the Union (2005) – $12.7M
9. Driven (2001) – $12.1M
10. United 93 (2006) – $11.5M
Zac Efron is proving to be a little less durable among the teen and pre-teen set than I would have thought. 17 Again (Warner Bros), also starring Matthew Perry and Mrs. Judd Apatow (Leslie Mann) has delivered a second Friday in the $3.61M range. The weekend could hit $10.83M or so,  enough for second place, for a new 10-day cume of $39.13M, but that represents a deeper-than-expected 54% drop.
Next comes the long-delayed Robert Downey Jr./Jamie Foxx project The Soloist (Dreamworks/Paramount). Originally slated for December with hopes of a Best Actor nomination for Downey, Jr., the Joe Wright-directed tearjerker was first moved to March before settling into this unfriendly last weekend of April slot. Reviews are respectable (61% Fresh on RT) and Downey, Jr. and Foxx both have real drawing power. At just over 2,000 playdates, the movie has managed a tuneful $3.43M (#4 for the day) to start the frame, and opening weekend could reach $10.29M, good for third place. The 25 Plus appeal, especially with women, gives this one a chance to do respectable business over the next couple of weekends as counter-programming to the first few summer blockbusters.
Aside from the monstrous upside surprise for Obsessed, the strong performance of Fighting (Rogue) ranks as the biggest box office upset of the weekend. This Channing Tatum vehicle from his A Guide To Recognizing Your Saints director Dito Montiel didn't seem to have much traction in pre-release audience tracking, but the PG-13 street fighting yarn has actually delivered the second-best Friday gross with about $3.72M. It will be pretty front-loaded, but should still reach a better-than-expected $9.74M by Monday.
Rounding out the top five, and a bit of a disappointment, is Earth (Disney). The studio's calculated use of Earth Day to release its Cliffs Notes version of the BBC miniseries Planet Earth has, however, paid some dividends. The 11-hour miniseries has been boiled down to the cutest and scariest animals along with the most fascinating images and picturesque landscapes in a tight 90-minute package, and the re-purposed result generated just over $4M for Wednesday's Earth Day celebration, adding another $1.6M or so on Thursday. Now the nature doc, which is running at 83% Fresh on Rotten Tomatoes, has slumped to an estimated $2.61M in Friday sales. It will play big with family audiences on Saturday and Sunday (the kids will be unable to resist baby polar bears sliding down a snowy arctic slope), but I am penciling in Earth for a 3-day of only $9.39M. That gives it the biggest 3-day opening ever for a nature doc, although this is also the widest opening ever for a movie of this type.
ALL-TIME TOP 3-DAY OPENINGS FOR NATURE DOCS
- total domestic cumes included -
1. Earth – $9.39M (projected)
2. March of the Penguins – $7.1M opening – $77.4M cume
3. Two Brothers – $6.1M opening – $19.1M cume
4. Winged Migration – $470,000 biggest weekend – $10.7M cume
5. Arctic Tale -  $207,000 opening – $830,000 cume
2004's Two Brothers, a story of tiger cubs from director Jean-Jacques Annaud, was a wide release like Earth, but the other 3 films listed above were platformed. Disney's abridged version of Planet Earth has no chance of reaching the staggering success of 2005's March of the Penguins, but Earth could get to the $30M range even with summer's biggest guns blazing starting next Friday.
EXCLUSIVE STEVE MASON EARLY FRIDAY ESTIMATES
1. NEW – Obsessed (Sony) – $11M, $4,375 PTA, $11M cume
2. NEW – Fighting (Rogue) – $3.72M, $1,610 PTA, $3.72M cume
3. 17 Again (Warner Bros) – $3.61M, $1,109 PTA, $31.91M cume
4. NEW – The Soloist (Dreamworks/Paramount) – $3.43M, $1,695 PTA, $3.43M cume
5. NEW – Earth (Disney) – $2.61M, $1,447 PTA, $9.39M cume
6. State of Play (Universal) – $2.58M, $1,029 PTA, $22.12M cume
7. Hannah Montana: The Movie (Disney) – $2.21M, $685 PTA, $61.41M cume
8. Fast & Furious (Universal) – $1.86M, $524 PTA, $5.79M cume
9. Monsters vs. Aliens (Dreamworks/Paramount) – $1.8M, $536 PTA, $168.09M cume
10. Crank: High Voltage (Lionsgate) – $1M, $450 PTA, $10.11M cume
EXCLUSIVE STEVE MASON EARLY 3-DAY ESTIMATES
1. NEW – Obsessed (Sony) – $27.5M, $10,939 PTA, $27.5M cume
2. 17 Again (Warner Bros) – $10.83M, $3,327 PTA, $39.13M
3. NEW – The Soloist (Dreamworks/Paramount) – $10.29M, $5,084 PTA, $10.29M cume
4. Fighting (Rogue) – $9.74M, $4,219 PTA, $9.74M cume
5. NEW – Earth (Disney) – $9.39M, $5,208 PTA, $15.04M cume
6. State of Play (Universal) – $8.38M, $2,987 PTA, $26.61M cume
7. Monsters vs. Aliens (Dreamworks/Paramount) – $7.56M, $2,251 PTA, $173.85M cume
8. Hannah Montana: The Movie (Disney) – $7.41M, $2,295 PTA, $66.63M cume
9. Fast & Furious (Universal) – $5.79M, $1,625 PTA, $144.95M cume
10. Crank: High Voltage (Lionsgate) – $2.8M, $1,259 PTA, $11.91M cume