Box Office Tracking: Hollywood's Worst Release Date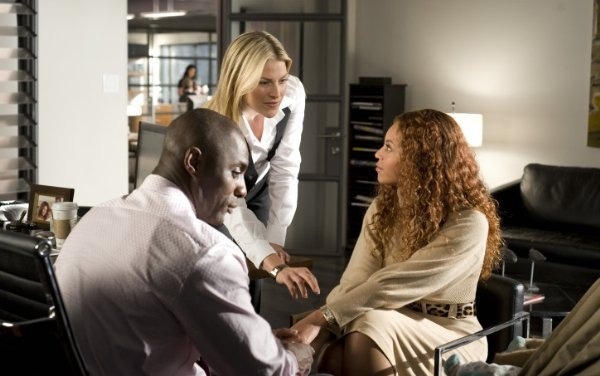 The final weekend of April has never been Hollywood's favorite release date. In fact, it is generally considered to be among the worst release dates on the calendar. Whatever opens on the final weekend of April gets absolutely crushed by the official start of the summer blockbuster season on the first weekend of May.
The 3 new wide releases and 1 major specialty release set to debut this weekend will face an onslaught of mega-hits over the next month. How can Obsessed (Sony), The Soloist (Dreamworks/Paramount), Earth (Disney) and The Informers (Senator) possibly find an audience with X-Men Origins: Wolverine (Fox) and Ghosts of Girlfriends Past (Warner Bros) arriving next weekend followed by, in successive weeks, Star Trek (Paramount), Angels & Demons (Sony), the combo of Night at the Museum 2 (Fox) and Terminator: Salvation (WB) and Disney/Pixar's Up?
End of April starters have tended to be genre pics like 2003's Identity and The Invisible (2007), mid-budget messes that have fallen short of expectations like the ridiculous Next (2007) starring Nicolas Cage and XXX: State of the Union in '05, and tough-to-sell pictures like the excellent United 93 (2006) from director Paul Greengrass and the good-hearted 2006 movie Akeelah & the Bee. Tina Fey is the unofficial queen of the last weekend of April, writing and starring in Mean Girls and mugging her way through Baby Mama with Amy Poehler last year.
ALL-TIME TOP 10 OPENINGS ON LAST WEEKEND OF APRIL
1. Mean Girls (2004) – $24.4M
2. Hitchhiker's Guide to the Galaxy (2005) – $21.1M
3. Baby Mama (2008) – $17.4M
4. RV (2006) – $16.4M
5. Identity (2003) – $16.2M
6. Harold & Kumar Escape From Guantanamo Bay (2008) – $14.9M
7. XXX: State of the Union (2005) – $12.7M
8. Driven (2001) – $12.1M
9. United 93 (2006) – $11.5M
10. Stick It (2006) – $10.8M
The likely weekend winner will be either Obsessed or Disney's nature doc Earth, which opened Wednesday to about $4M, but I am giving the nod to recording superstar Beyonce despite the fact that Sony has kept its exploitative-looking thriller completely under wraps. Under its Screen Gems banner, Sony knows how to squeeze one good weekend out of movie like this regardless of how bad it is. Last year, Screen Gems scored excellent 3-day starts for sub-par movies like Prom Night ($20.8M), First Sunday ($17.7M), Lakeview Terrace ($15M), Quarantine ($14.2M) and Untraceable ($11.3M). Industry tracking suggests that Beyonce could drive the certain-to-be-forgettable Obsessed to a decent $15M opening weekend, and it will likely play very well at inner city theatre properties.
That would push Earth to #2 for the frame. The Earth Day opening was successful, and critics love the film (83% Fresh on Rotten Tomatoes). Family audiences love cute baby animals so Disney has excerpted the amazing BBC miniseries Planet Earth to fashion their own March of the Penguins-style narrative nature doc. It's hard to imagine anything cuter than baby polar bears sliding down a snow bank, and it's hard to come up with anything scarier than a Great White Shark lunging out of the water after its prey. I have seen the full length miniseries, but not Disney's movie. Still it's hard to imagine this not being unbelievably compelling stuff, even in its 90 minute theatrical version (although I still recommend tracking down the full BBC series instead). I am forecasting a possible $13.2M for 3-days, which would mean a 5-day start of just over $19M.
Last weekend's champ, 17 Again (Warner Bros) starring 'tween heartthrob Zac Effron, should hold up fairly well. The word-of-mouth is very positive, and that could mean a drop of only 46% or so to about $12.7M and a new cume of just over $40M by Monday.
The Joe Wright-directed The Soloist has been juggled around the release schedule with abandon, but it has been very well marketed with a heavy TV campaign, especially during shows geared for the 25+ crowd. The reviews are a mixed bag (54% Fresh on Rotten Tomatoes), but there will be some business in this title. Some of my sources are saying $12M-$14M, but I am calling for a possible $11.6M.
The well-reviewed Russell Crowe journalism thriller State of Play (Universal) will almost certainly hang onto a spot in the top 5. The dip will be gentle (maybe 35%-40%), and this very good adult film could generate another $9M in ticket sales.
FINAL PREDICTION FOR APRIL 24-26
1. NEW – Obsessed (Sony) – $15M
2. NEW – Earth (Disney) – $13.2M
3. 17 Again (Warner Bros) – $12.7M
4. NEW – The Soloist (Dreamworks/Paramount) – $11.6M
5. State of Play (Universal) – $9M
6. Monsters vs. Aliens (Dreamworks/Paramount) – $7.9M
7. Hannah Montana: The Movie (Disney) – $7.4M
8. Fighting (Rogue) – $7M
9. Fast & Furious (Universal) – $5.8M
10. Crank: High Voltage (Lionsgate) – $2.8M
11. Knowing (Summit) – $2M
12. NEW – The Informers (Senator) – $1.7M