Did The Dana Carvey Show Have One Of The Greatest Comedy Writer Benches Ever?

The Dana Carvey Show is now on Hulu. What's the big deal? Well, when the sketch comedy show premiered on ABC in the mid '90s—following a family-safe block of programming—millions were in awe at the stuff it got away with. It was too good to be true, giving SNL an irreverent elbow. When Carvey spoofed President Bill Clinton by whipping out countless flabby breasts to proudly nurse babies and puppies, it was the beginning of the end. Ratings were steady but still used as a scapegoat, and it was axed after eight episodes. Parents and middle school teachers exhaled in unison.
Knowing that Robert Smigel's "The Ambiguously Gay Duo" debuted right after Jonathan Taylor Thomas's stupid girl troubles on Home Improvement remains incredibly surreal and relevant in the current climate.
After the jump is a screen-shot that captures the show's insane roster of writers: Stephen Colbert, Steve Carell and Charlie Kaufman for starters...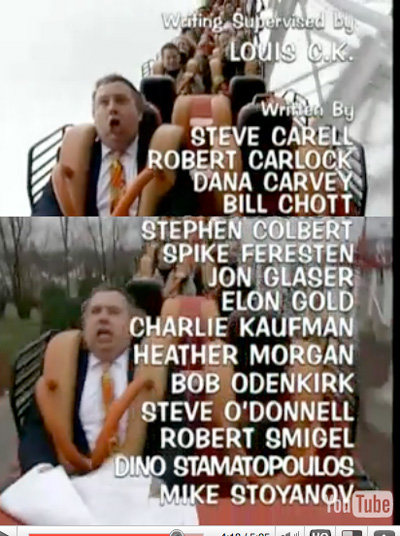 via Vulture / Tumblr