Video Clip From Shane Acker's 9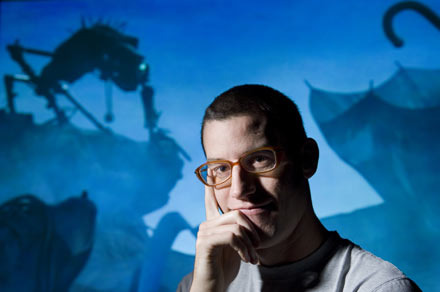 Shane Acker's short animation 9 was a wonderful little fable, a redemption fantasy that blended stitchpunk images with dream-like plotting and a subtle blend of melancholy and fear. I loved it from the second I saw it, and was as such very disappointed to see it lose the Oscar – even to John Canemaker and Peggy Stern's superb Moon and Son.
That initial short is now being adapted into a full length feature, with Acker (the pin-up boy at the head of the post) still directing and Tim Burton and Timur Bekmambetov amongst the producers. The official trailer was released around Christmas time, but since then we've seen or heard little else. Now, though, MTV have eased my anxious fever a little and premiered a really very, very interesting, and ever so slightly slightly surprising, 2-minute, 6-second clip from the film. You can enjoy that below the break.
Before the video, it might help to read the official synopsis:
When 9 (Elijah Wood) first comes to life, he finds himself in a post-apocalyptic world. All humans are gone, and it is only by chance that he discovers a small community of others like him taking refuge from fearsome machines that roam the earth intent on their extinction. Despite being the neophyte of the group, 9 convinces the others that hiding will do them no good. They must take the offensive if they are to survive, and they must discover why the machines want to destroy them in the first place. As they'll soon come to learn, the very future of civilization may depend on them.
How good does that sound? Not quite as good as it looks...
If you are outside of the US, you can view the clip by clicking on the 720p link on the MTV host page.
Having seen both the trailer and that incredible new clip, I'm absolutely compelled by the prospect of this film. I'm completely intrigued, and keen to see just how expansive, imaginative, rich and compelling the feature version of 9, and the world and characters Acker portrays within, turn out to be. This young man definitely seems to be a director to watch closely.
The impressive voice cast for the film includes the aforementioned Elijah Wood as well as Christopher Plummer, Martin Landau, John C Reilly, Jennifer Connelly and Crispin Glover. If, like me, you'd buy your ticket now, the bad news is that you can't, yet – but you won't forget the release date in a hurry: 9/9/09.