Set Photos: Zombieland Invades Hollywood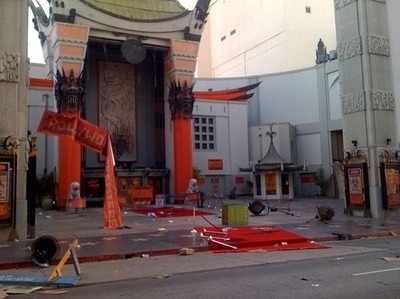 Zombieland has officially finished filming today with a scene shot at Hollywood's famous Grauman's Chinese Theater. Director Ruben Fleischer posted a couple photos on his blog. More after the jump.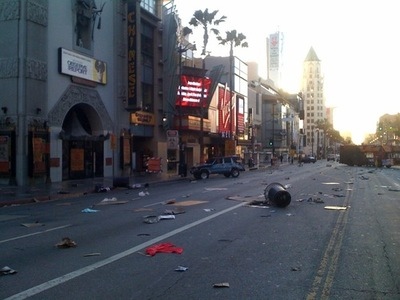 "Zombieland is officially done shooting. We finished up today with some serious LA landmarks – Grauman's Chinese Theater, Beverly Drive, and the 4th Street Bridge. All in all a good day. A nice reunion, and very low pressure shooting. From here there is a long summer of editing before me, which is daunting, but exciting, because I know the material we have is so strong. It should be lots of fun. I honestly can't wait."
I had a chance to visit the set of the film while the movie was shooting in Georgia. I wish I could share with you some of my enthusiastic thoughts about the film, but I'm under embargo. You can check out more set photos from Zombieland on Flickr.
Columbus (Jesse Eisenberg) has made a habit of running from what scares him.  Tallahassee (Woody Harrelson) doesn't have fears.  If he did, he'd kick their ever-living ass.  In a world overrun by zombies, these two are perfectly evolved survivors.  But now, they're about to stare down the most terrifying prospect of all:  each other. The film also stars Emma Stone (Superbad) and Abigail Breslin.Zombieland hits theaters on October 9th 2009.