Joss Whedon On Dollhouse's Survival For A Second Season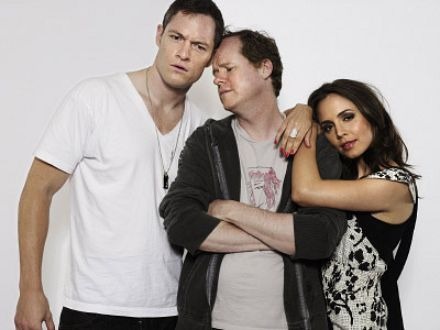 It's safe to say that Dollhouse has finally kicked it into high gear in the second half of this season. While the first crop of episodes were mostly episodic and felt strangely generic, all of the episodes after and including "True Believer" (the fifth, written by Angel and Firefly vet Tim Minear) have proven that Dollhouse is a bonafide Joss Whedon show. In the second half of the season we've seen the depth, humor, and excellent character work that we've come to expect from Whedon, but that rise in quality has unfortunately not been reflected in the show's ratings.
In a recent conversation with Whedon, Sci Fi Wire reports that all may not be lost for the show. When asked if he's heard anything about cancellation, Whedon responds:
They haven't said anything about a number, and they haven't said anything about a date. What they have said is "We get it. We get that the numbers are soft, but it's not a Nielsen world. The DVR numbers are good, and the show's getting better, and the demographic is good, and we all have a crush on [star and producer] Eliza [Dushku]." So they're basically fans.
Obviously, there has to be a number we reach that is viable for them economically, or it would be senseless for them, unless they were insane fans like me. But they get it. They get the show, and they get what works. So they're anxious for it to stay at a level where they can justify throwing down some more. Hopefully that'll happen.
While it's certainly more popular than Terminator, Whedon also recognizes that the difference in audiences between Prison Break and Dollhouse could also negate any benefit from that popularity. He also had a few words to say on Terminator when asked if that show's cancellation made him worried about Dollhouse's survival:
No. I mean, Terminator did very poorly. I don't know why. I love it. That's why I'm not on that side of the fence, because I'm not a marketer. I don't know how these things work. It started strong, and it fell off for some reason. I liked it as a lead-in because, artistically, they were just a nice match. They both had a similar sensibility, and I think Terminator was a really interesting show that really plumbed the depths of its premise really well. So I was happy to be with it.
But the fact is it was doing poorly, and we were doing better, but not great. I think, ultimately, nobody blames us. We did build on Terminator and usually on our own half hours most nights. It's anyone's guess at this point.
The shows were indeed a perfect match, both thematically and audience-wise, and it's a shame that we're losing that pairing. The shows would have certainly done better if they weren't scheduled in the Friday night ghetto, but I can't imagine Fox ever deciding to take a chance and move a cheap reality show to make room for expensive sci-fi shows that inherently have less mass appeal.
You can read more of the Q&A session over at Sci Fi Wire, where Whedon goes into his method for wrapping up the story at the end of the season, as well as what fans can do to help Dollhouse survive.
Discuss: Do you think Dollhouse deserves a second season? What do you think could help the series be more successful?