See Kevin Smith Play Carnegie Hall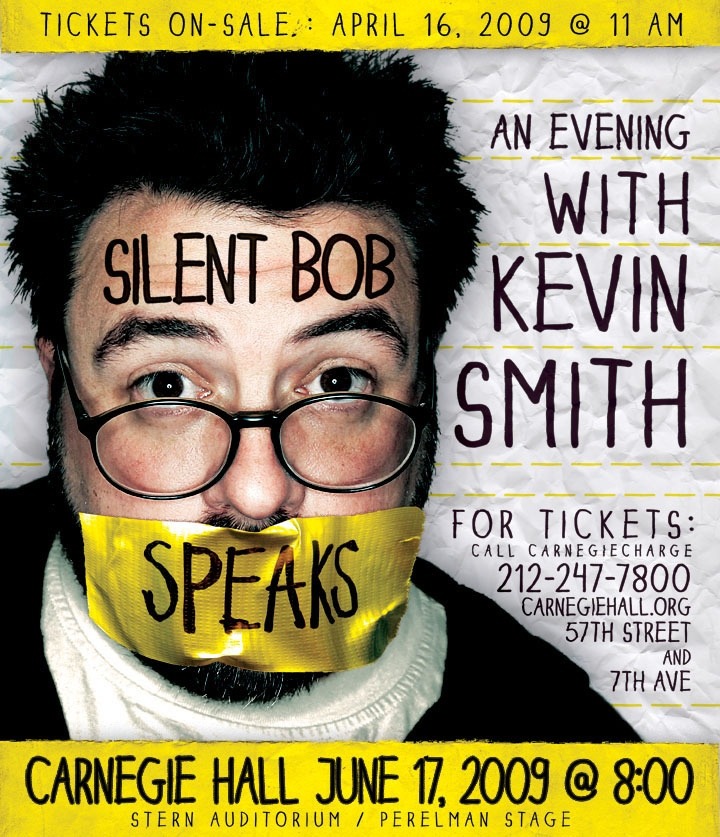 A famous venerable legend tells the story of a New Yorker who is approached in the street near Carnegie Hall, and asked, "Pardon me sir, but how do I get to Carnegie Hall?" He replies, "Practice, practice, practice." Writer/Filmmaker/Entertainer Kevin Smith has announced that he will be doing one of his live events, An Evening With Kevin Smith, in New York City at the famous legendary Carnegie Hall. The show is going to take place on June 17th 2009 at 8:00pm.
Tickets go on sale at 11:00am eastern time on Thursday morning. Carnegie Hall won't be officially announcing the show/sales info to the rest of the world until April 20th. So you have a few days to grab tickets before the rest of New York. You can find more information and order tickets here.
Even some of my friends who aren't fans of Smith's work love hearing his stories. Smith is hilarious live. If you havent already, check out the dvd releases of his previous stand-ups: An Evening with Kevin Smith, An Evening with Kevin Smith 2: Evening Harder, and SOLD OUT: A Threevening with Kevin Smith. If you've never heard Smith tell the story of his experiences writing a new Superman movie, check it out now on YouTube.