Elisabeth Moss, Sean Combs And Rose Byrne Join Get Him To The Greek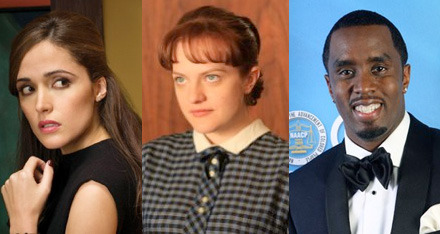 Elisabeth Moss, Sean Combs and Rose Byrne have joined the cast ib the Judd Apatow-produced Forgetting Sarah Marshall spin-off Get Him to the Greek. The screenplay, written by director Nicolas Stoller, follows a fresh-out-of-college record company intern named Aaron Greenberg (Jonah Hill) who is assigned the job of transporting an out-of-control rock star named Aldous Snow (Russell Brand, reprising his role from Sarah Marshall) from London to a gig at Los Angeles' famous Greek Theater.
Moss will play Aaron's repressed doctor girlfriend Daphne Binks. Combs will play Sergio, the head of the record company (big stretch), and Byrne will play Snow 's ex-girlfriend, a Courtney Love-type rocker named Jackie Q. I really liked Sarah Marshall quite a bit and find Brand hilarious. Combs knows his strengths and the role of a record executive doesn't seem outside of his range.
Emily Blunt was originally in talks for the part of Jackie Q. Jason Segel has said that he has written music for the film, which includes a duet between Snow and Jackie Q.
source: reuters