First Official Photos From The Expendables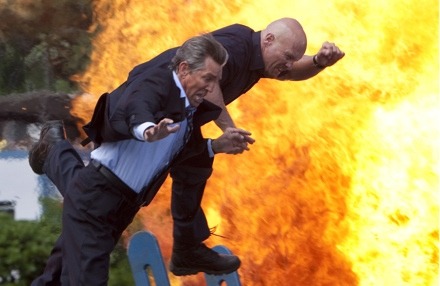 Update: A Third photo of Stallone has been added after the jump.
The unofficial-looking official blog for Sylvester Stallone's The Expendables has released the first photos from the film. The cropped photo above features Eric Roberts and Stone Cold Steve Austin flying through the air with a giant explosion in the background. Roberts commented on the day of shooting:
Today I was attacked by Jason Statham firing a machine gun from a dive-bombing fighter plane, nearly burned alive by napalm and had to leap into the freezing Bay of Mangaratiba to save my ass.  And how was your day???
It looks like this might have been shot on the same dock that Stallone what photographed shooting last week. Check out the full photo after the jump. Also, after the jump, a photo of Sylvester Stallone as Barney Ross and Jason Statham as Lee Christmas.