Chris Pine Mad For The A-Team?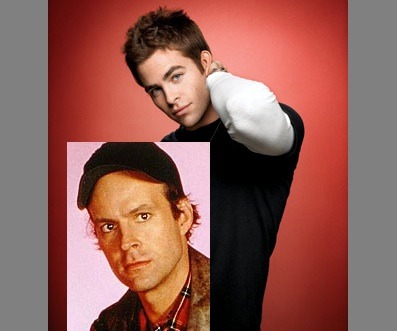 The upcoming A-Team film, now being developed by director Joe Carnahan since John Singleton left the project, is reportedly scheduled for release in summer 2010. That should mean that the cast are being brought together right now (don't you just love it when a cast comes together?) and, therefore, Canahan is likely to have recently been talking to prospectives.
According to an interview with MTV, charming young actor chap Chris Pine is one of those maybes. Carnahan and Pine previously worked together on Smoking Aces, and this fact alone led the blood hounding MTV to ask if an A-Team re-team was a possibility. Pine's line:
We've talked about it. I'd love to.
Well done MTV, that shot in the dark hit an organ.
Now, Pine could very possibly have been an option for Lt. Templeton 'Faceman' Peck, but apparently that's not how he's thinking. Instead, he fancies a turn as Captain H. M 'Howling Mad' Murdoch. Fair enough, Mr. Pine but... er.. who the heck came up with those ridiculous names?
The young fella seems quite set on the part:
Murdock is my man. I love Murdock.
I guess he's the right age. Maybe he can go around racking up TV-to-Big Screen roles the way Michael Sheen has been collecting those 'impersonations' of real people. Kirk and Murdoch and... er... Magnum PI, Kotter, Mr. Ed and BJ.
And The Bear.
Frankly, I think the odds of any studio letting an A-Team film be sufficiently far away from the TV show to be exciting for grownups are really, really slim. Furthermore, the choice of directors – first Singleton and now Carnahan – hardly has me chomping at the bit. I hope it isn't a total waste of millions and millions and millions of dollars, but I bet you millions and millions and millions of pride points that it will be.
I'm betting Pine gets the part. I'm also betting on Ben Affleck for a role. Maybe Jeremy Piven as George Peppard's boss character bloke? Who do you suspect?