Box Office: Hannah Montana Beats Expectations, Observe & Report Off To Sluggish Start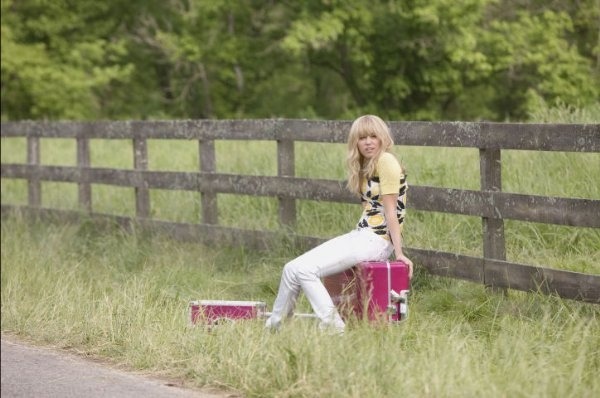 She has a hit TV show on the Disney Channel, a pair of albums that have debuted at #1 on the Billboard charts, a concert tour with 69 sold-out arenas in North America, and now a second #1 movie in as many years. Miley Cyrus is the biggest teen star in the world.
With most of Hollywood (including myself) expecting an opening in the mid-$20M's for Hannah Montana The Movie (Disney), Miley has surprised "grown-ups" with her box office clout once again. The picture opened with $15M on Good Friday, and it could reach an estimated $33.6M by the end of Easter weekend, making it the all-time #2 opening for the bunny holiday weekend.
ALL-TIME TOP 5 EASTER WEEKEND OPENINGS
1. Scary Movie 4 – $40.2M
2. Hannah Montana The Movie – $33.6M (projected)
3. Panic Room – $30M
4. The Matrix – $27.7M
5. Guess Who – $20.7M
That is also stronger than Miley Cyrus' 3-D concert movie last year. 2008's Hannah Montana/Miley Cyrus: Best of Both Worlds Concert Tour was promoted as a one-week-only motion picture event and benefited from a 3-D upcharge, delivering a stunning $31.1M last February. This 16-year-old has outdone herself.
For the business overall, it appears to be a spectacular frame as Hannah and some strong holdovers will likely score the biggest Easter Weelend in modern box office history, surpassing 2002's holiday 3-day.
ALL-TIME BIGGEST GROSSING EASTER WEEKENDS
- totals are for the top 10 films for the holiday 3-day -
1. 4/10/09 – $119.69M [#1 - Hannah Montana The Movie - $33.6M] (projected)
2. 3/29/02 – $108.8M [#1 – Panic Room - $30M]
3. 4/14/06 – $107.08M [#1 – Scary Movie 4 - $40.2M]
4. 4/06/07 – $104.5M [#1 - Blades of Glory - $22.5M]
5. 3/21/08 – $94.65M [#1 - Dr. Seuss' Horton Hears A Who! - $24.6M]
6. 4/07/04 – $87.9M [#1 – Passion of the Christ - $15.2M]
7. 3/25/05 – $86.8M [#1 – Guess Who - $20.6M]
8. 4/18/03 – $83.8M [#1 – Anger Management - $25M]
9. 4/02/99 – $72.7M [#1 – The Matrix - $27.8M]
10. 4/21/00 – $70.3M [#1 – U-571 - $19.5M]
Hollywood wouldn't be making history were it not for the continued high octane ticket sales of Fast & Furious (Universal). The fourth in the F&F franchise will be down about 63% from its rubber-burning $71M opening, but it will still likely manage a possible $26.4M, more than enough for second-place. The Diesel-Walker-Brewster-Rodriguez "speed machine" will have about $115.65M in the bank on Monday, putting it miles ahead of the other movies in the franchise.
10-DAY GROSSES FOR FAST & FURIOUS FRANCHISE
1. Fast & Furious (2009) – $115.65M opening (projected)
2. 2 Fast 2 Furious (2003) – $83.6M opening
3. The Fast & The Furious (2001) – $77.9M opening
4. The Fast & The Furious: Tokyo Drift (2006) – $43.2M opening
Monsters Vs. Aliens from Dreamworks Animation continues to perform in monstrous proportions. The cutting edge 3-D spectacle added another $8.1M on its third Friday (no school for lots of kids), and it may hit $20.6M thanks to big family matinees on Saturday and Sunday. MVA is the fifth-best performer for Dreamworks Animation after 17 days, trailing only the Shrek franchise and Kung Fu Panda.
TOP 10 GROSSES FOR DREAMWORKS ANIMATION AFTER 17 DAYS
1. Shrek 2 – $287M
2. Shrek the Third – $255.9M
3. Shrek – $148.3M
4. Kung Fu Panda – $155.8M
5. Monsters vs. Aliens – $140M (projected)
6. Madagascar 2 – $137.1M
7. Madagascar – $128.4M
8. Shark Tale – $118.7M
9. Over the Hedge – $112.3M
10. Bee Movie – $93.6M
But Monsters Vs. Aliens looks even better when compared to other animated films released during non-peak times. Jeffrey Katzenberg's latest is almost keeping pace with Fox's Ice Age: The Meltdown.
TOP GROSSES FOR NON-SUMMMER, NON-HOLIDAY ANIMATED MOVIES AFTER 17 DAYS
- excludes movies released May-August and November-December –
1. Ice Age: The Meltdown – $147.2M
2. Monsters vs. Aliens – $140M (projected)
3. Shark Tale – $118.7M
4. Dr. Suess' Horton Hears A Who! – $177.5M
5. Ice Age – $116.8M
Not all good news for the studios. Observe & Report, the new Seth Rogen, R-rated comedy from Warner Bros, is off to a sluggish start with about $4.25M. Reviews are very good, and this one could benefit from positive word-of-mouth, but at the moment I am projecting only $11M or so for the weekend.
Meanwhile, Fox's Dragonball: Evolution is a bomb with estimated sales of just $1.92M on opening day and a target of $4.85M (8th place). Lionsgate's strong-holding The Haunting in Connecticut will probably round out the top five with just over $6M for a new cume of almost $47M.
EXCLUSIVE STEVE MASON EARLY FRIDAY ESTIMATES
1. NEW – Hanna Montana The Movie (Disney) – $15M, $4,811 PTA, $15M cume
2. Fast & Furious (Universal) – $10M, $2,880 PTA, $99.25M cume
3. Monsters vs. Aliens (Dreamworks/Paramount) – $8.1M, $1,958 PTA, $126.5M cume
4. NEW – Observe & Report (Warner Bros) – $4.25M, $1,558 PTA, $4.25M cume
5. The Haunting in Connecticut (Lionsgate) – $1.7M, $625 PTA, $42.28M cume
6. I Love You Man (Dreamworks/Paramount) – $2.11M, $798 PTA, $54.7M cume
7. Knowing (Summit) – $1.95M, $667 PTA, $63.28M cume
8. NEW – Dragonball: Evolution (Fox) – $1.92M, $880 PTA, $1.92M cume
9. Adventureland (Miramax) – $1.1M, $586 PTA, $9.11M cume
10. Duplicity (Universal) – $750,000, $382 PTA, $34.6M cume
EXCLUSIVE STEVE MASON EARLY 3-DAY ESTIMATES
1. NEW – Hanna Montana The Movie (Disney) – $33.6M, $10,776 PTA, $33.6M cume
2. Fast & Furious (Universal) – $26.4M, $7,604 PTA, $115.65M cume
3. Monsters vs. Aliens (Dreamworks/Paramount) – $20.6M, $4,981 PTA, $140M cume
4. NEW – Observe & Report (Warner Bros) – $11M, $4,034 PTA, $11M cume
5. The Haunting in Connecticut (Lionsgate) – $6.06M, $2,227 PTA, $46.64M cume
6. I Love You Man (Dreamworks/Paramount) – $5.7M, $2,157 PTA, $58.28M cume
7. Knowing (Summit) – $5.6M, $1,915 PTA, $66.93M cume
8. NEW – Dragonball: Evolution (Fox) – $4.85M, $2,224 PTA, $4.85M cume
9. Adventureland (Miramax) – $3.41M, $1,818 PTA, $11.42M cume
10. Duplicity (Universal) – $2.47M, $1,260 PTA, $36.32M cume