Twin Town Sequel Applying For Planning Permission?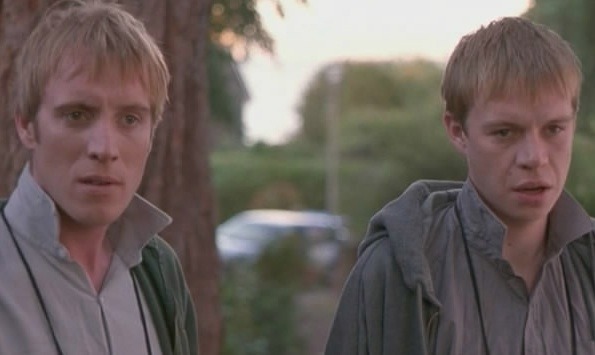 It's been exactly twelve years since Twin Town first hit UK cinemas, so the news of a prospective sequel couldn't be more well timed. According to Mandrake, the second outing for the terrible Lewis twins is finally revving up – but before we get onto the details of part two, you'll very likely need a reminder on the first.
Twin Town starred Rhys Ifans and his brother Llyr as a pair of conniving brothers that take cruel vengeance upon Swansea's local kingpin, and was directed by Kevin Allen, the brother of Keith, father of Joe and uncle of Lily. Danny Boyle is listed as one of the Executive Producers and, to be honest, the influence of Trainspotting doesn't just show, it gets shown off.
Here's the tagline to the original film:
Rugby. Tom Jones. Male Voice Choirs. Shirley Bassey. Llanfairpwllgwyngyllgogerychwyrndrobwyllllantisiliogogogch. Snowdonia. Prince of Wales. Anthony Hopkins. Daffodils. Sheep. Sheep Lovers. Coal. Slate Quarries. The Blaenau Ffestiniog Dinkey-Doo Miniature Railway. Now If That's Your Idea Of Thousands Of Years Of Welsh Culture, You Can't Blame Us For Trying To Liven The Place Up A Little Can You?
Kevin Allen co-wrote with Paul Durden, who now reveals that, while contracts haven't been signed, the follow up could be coming soon. The Lewis Bros., as played by the Ifans Bros., closed out the first film by heading off to Morocco and, apparently, the sequel concept has them returning as Muslim fundamentalists. It has the working title of Fatty Al Akbar, a pun on the Arabic takbir 'Allahu Akbar', meaning God is Great.
A good part of the appeal of Twin Town, I'm supposing, is that it dared to be sordid and squalid and glib all at once, and threw in all kinds of off-hand jokes about drugs, sex and misbehaving. I'm supposing that would be carried over to the sequel, therefore I'm expecting something at least a little like Uwe Boll's Postal.