Gary Oldman NOT In Iron Man 2, First Look At Garry Shandling As Senator Stern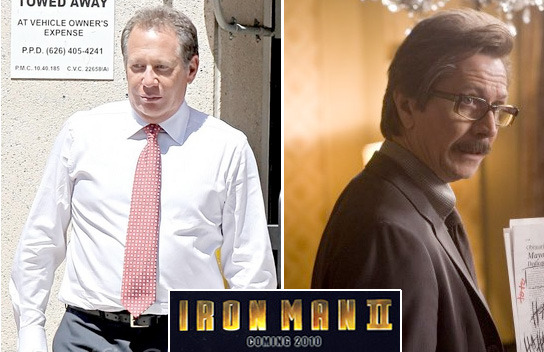 Yesterday we told you that comedian/actor Garry Shandling had been cast in Iron Man 2, either as a reporter or Senator. Shandling responded on Twitter about the internet confussion over his role in the film, saying "I can't wait to see the movie to see who I actually play." It turns out that he is playing a character named Senator Stern. Pacific Coast News caught Shandling on set dressed in a shirt and a tie, no wonder he was mistaken for "a reporter".
Update: Gary Oldman's Manager has dismissed rumors that the Dark Knight star has been cast in Iron Man 2: "Mr Oldman has not visited the set of Iron Man and there are currently no plans for him to appear in an Iron Man film. I hope this clears up the recent rumors." [coventrytelegraph]IESB has gotten word that another Gary has joined the cast, jumping from last year's blockbuster DC Comic Book film The Dark Knight to the Marvel sequel. That's right, none other than police commissioner Jim Gordon himself – Gary Oldman. So who does Oldman play in the Iron Man 2? We're not sure just yet, but I'm sure we'll find out later this week.