Early Twitter Buzz: Star Trek Has Secret Premiere In Austin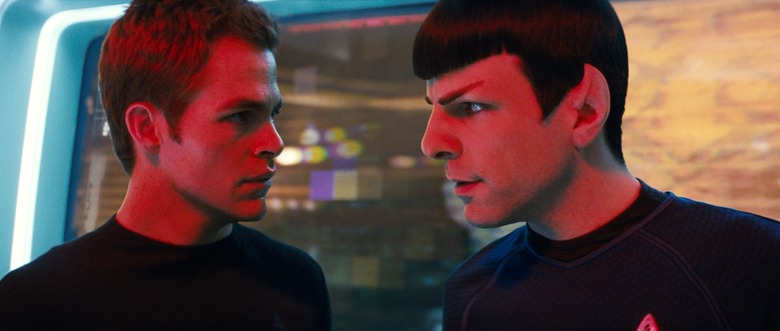 Paramount pulled a MASSIVE bait and switch with tonight's Alamo Drafthouse's screening of Wrath of Kahn on Monday night. The announced line-up included some never before seen footage from JJ Abrams Star Trek followed by Star Trek II: Wrath of Kahn. Guess what... They didn't show Kahn at all... The Austin Texas audience because the first audience to see the entire new Star Trek film. Leonard Nimoy, Damon Lindelof, Alex Kurtzman and Bob Orci were in attandance. I'm so jealous! So what is the early reaction? Lets go to the Twitters....
bosmon: holy sh** we just saw world premiere of new #Star Trek and it's AWESOME
jaireaux: I  don't think you'll be disappointed. The cast is superb, the story is compelling, the action is exciting, and Abrams even avoids any blatant cheesy "winks" about his reboot. If Star Trek is the bluebird of the summer movie season, then we are in for a great ride.
chinesedentist: says OMG I just got back from Star Trek and it was AMAZING. The best Star Trek movie ever. Yes, it even bests Wrath of Khan. Believe me.
wipeout: Any old Stat Trek nerds out there who are troubled, calm down, all is right with the new Star Trek movie of which I approve.
poshdeluxe: ZOMG!! Just saw the new star trek movie and it MELTED MY PANTS!!!!!\
headgeek666: holy f***! the new Star Trek f***ing rules the universe
rejects: Just got super secret clearance to tell you that yes, I saw JJ's Star Trek. And I was blown away. it is super accessible, in the right ways. Fans at my screening also dug it, so that bodes well.
EricVespe: Trek was awesome! We got it before the world premeire! Eat our dust Australia!
simplygreg: Just finished seeing new Star Trek flick introduced by the writers, Damon Lindelof and, wait for it, Leonard Nimoy! It was amazing!
brentwit: the new Star Trek was awesome! happy early summer and thanks @drafthouse!
AlyssaMS: my mind = blown Star Trek was AWESOME!
rodneydp: Yeah, that Star Trek 2 screening turned out to be the premiere of JJ Abram's Star Trek. Seriously, I cannot believe how good it was.
planetary1: STAR TREK is GREAT in a way that scifi movies haven't been for a long time. They really got it right. And, The Alamo Drafthouse Rules!
ColeAbaius: Yes, I'm the guy who's never seen an episode of ST and got to see Star Trek tonight. As a total ST Virgin – the movie is incredible.
I will be updating this post as more twitter thoughts come in. Also, the world premiere in Sydney Australia takes place in just a couple hours, so expect some reviews to be online in the morning.