Terminator Salvation Is Rated PG-13?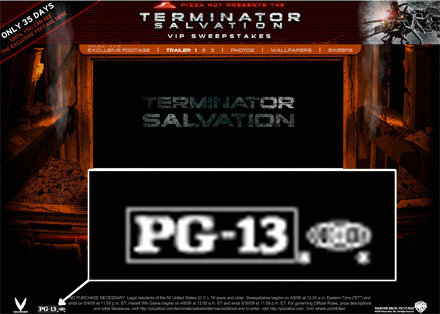 It seems like all of the big tentpole films now-a-days have a tie in with a pizza delivery company. McG's Terminator Salvation has a tie-in with Pizza Hut, but that's not the big news. The news comes from the fine print at the bottom of Pizza Hut's Termiantor Salvation website. If you look next to the Halcyon logo is what appears to be the film's final MPAA Rating: PG-13.
Last we heard, McG was fighting with the studio to keep a topless scene featuring Moon Bloodgood in the final cut. But of course, the topless sequence would require a less marketable R-Rating. I hate to read too much into one little MPAA logo on a cross promotional website (someone could have easily messed up...), but it appears as if McG has lost that battle. But this isn't entirely bad news because a PG-13 rating isn't what it use to be. Remember, The Dark Knight was rated PG-13 and featured a man with half a face.
via: AICN