Box Office: Fast & Furious Opens With A Scalding $28M Friday; Could Speed To $65M By Monday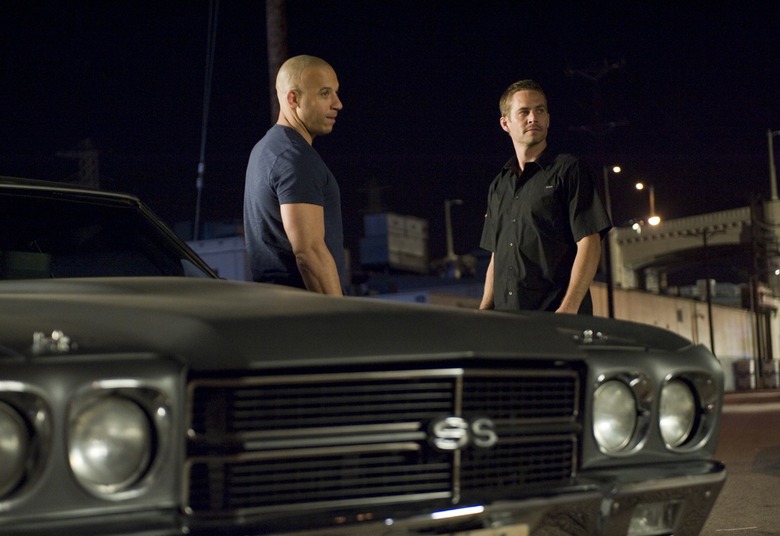 With 400,000 Americans showing up every year at the Indy 500 and 200,000 more buying tickets to see NASCAR's premiere event The Daytona 500, you would think that the most creative minds in Hollywood would be looking for a way to cash in with more movies about car racing and car culture. NASCAR has an estimated 75 million fans, and it is second only to the National Football League in terms of television ratings, so where are all the good racing movies?
Universal seems to have answered that question by getting its successful street racing franchise back into the fast lane this weekend with Fast & Furious. The movie, which reunites Vin Diesel, Paul Walker, Jordana Brewster and Michelle Rodriguez for the first time since 2001's original surprise blockbuster, has exploded to a high octane $28M or so on Friday and that could mean a $65M opening weekend. That would make it the all-time #1 opening for a car racing movie.
ALL-TIME TOP 10 OPENINGS FOR AUTO RACING MOVIES
1. Fast & Furious (2009) – $65M opening (projected)
2. Cars – $60.1M opening
3. 2 Fast 2 Furious (2003) – $50.4M opening
4. Talladega Nights – $47M opening
5. The Fast & The Furious (2001) – $40M opening
6. The Fast & The Furious: Tokyo Drift (2006) – $24M opening
7. Speed Racer – $18.5M opening
8. Days of Thunder – $15.5M opening
9. Herbie: Fully Loaded – $12.7M opening
10. Death Race – $12.6M opening
The Fast franchise has an odd history. 2001's The Fast & The Furious scored a blistering $40M opening weekend and reached $144.5M domestic and over $200M worldwide. Then the enigmatic Diesel decided that he didn't like the script for the proposed sequel. Boyz n the Hood's John Singleton took the reigns from Rob Cohen and Walker returned for 2 Fast 2 Furious, which still scorted an impressive $127M in the US sans Diesel. Then in 2006, Universal rebooted without Diesel or Walker with The Fast & The Furious: Tokyo Drift, and the fan base eroded considerably as the poorly-received movie generated only $62.5M after a sluggish $23.9M 3-day start.
Now, the original cast returns with Tokyo Drift director Justin Lin at the helm, and those Under 25 Males are showing up (dragging their girlfriends no doubt), and the reaction across the social networking platform Twitter is very telling. The first thing I noticed. Lots of sellouts and long lines.
* damn fast and furious full till 11
* Standing in line for Fast and Furious earlier show was sold out. I so hope it is worth this.
* Didn't realize fast and furious would do so much business.
* Just saw Fast & Furious. It was crazazy. The theater was packed and every show was sold out. I loved it!
* Waiting in line to see Fast and Furious. Really long line!
* too many people watching fast and furious tonight!
* is watching monsters vs. aliens, only because Fast and Furious was sold out. :/
As far as instant reaction from the Twitteratti, it seems roughly split 60% positive and 40% negative. Here are some "thumbs up" Tweets.
* Just hopped outta Fast and Furious. Forget 2 and 3, this was the real sequel. Better than you hope it'll be, I promise.
* new fast and furious = AMAZING
* Fast and Furious 4... wow, what a movie! For boys, that is.
* Fast and Furious 4, great action movie. It's as good as the first one. SpitBaby gives it 4 of 5 stars.
* Saw Fast and Furious tonight. It was pretty darn good! Lots of American Muscle.
Not everyone agrees however. Some are Twittering their disapproval.
* The 'Fast and the Furious' perfectly describes how I would leave that movie.
* just saw the new fast and furious.bad as expected.
* just got home from seeing FAST AND FURIOUS! IT SUCKED!!!
* Fast and Furious: Not bad, but I wouldn't tell you to pay theatre $ to see it unless you're a fan of the first movie. Too many jump cuts.
* Fast and Furious: worst movie ever.
* fast and furious was awful. whats the appeal? minus hot guys, crappy cars and chicks making out? no thanks
For Vin Diesel, this weekend's opening is an all-time best, and you've got to wonder who gives him career advice. He walked away from the both 2 Fast 2 Furious and the sequel to the highly lucrative XXX (XXX:State of the Union was ultimately made with Ice Cube as the lead grossing just $26.8M domestic, but it would have certainly performed much better as a Diesel project).
ALL-TIME TOP 5 VIN DIESEL OPENINGS
1. Fast & Furious (2009) – $65M opening (projected)
2. XXX – $44.5M opening
3. The Fast & The Furious (2001) – $40M
4. The Pacifier – $30.5M opening
5. The Chronicles of Riddick – $24.3M opening
Meanwhile, thanks to the F&F hot wheels, Paul Walker has three $40M+ openings on his resume.
ALL-TIME TOP 5 PAUL WALKER OPENINGS
1. Fast & Furious (2009) – $65M opening (projected)
2. 2 Fast 2 Furious (2003) – $50.4M opening
3. The Fast & The Furious (2001) – $40M opening
4. Eight Below – $20.1M opening
5. She's All That – $16M opening
Monsters Vs. Aliens (Dreamworks/Paramount) continues to be a box office juggernaut as it begins its second weekend. The animated send-up of B-movie sci-fi from the 1950's continues to be fueled by its 2,075 or so standard Digital 3-D engagements and the added 143 Digital IMAX runs scoring an exceedingly strong $8.9M on Friday, which will likely translate to an estimated $35.6M for the frame and a 10-day cume of almost $108M. That will represent an approximate weekend drop of just 40%, which is impressive given that the opening 3-day was $59.3M.
The Lionsgate genre pic The Haunting in Connecticut sold another $3.75M in tickets on its second Friday, and it should reach about $10.8M by Monday for a new cume of $38.5M. That would mean a drop of only 53%, very good for a horror flick.
Meanwhile Knowing (Summit) and I Love You, Man (Dreamworks/Paramount) will both spend another week in the top five. The Alex Proyas-directed Nicolas Cage vehicle managed $2.71M to start the 3-day, and Knowing may reach $8.8M by Monday. With a new cume of $58.88M, the gang at Summit has a shot to push this one just past $70M in the US. John Hamburg's Apatow-style comedy with the inspired pairing of Paul Rudd and Jason Segal is also holding strong with an estimated $2.1M in tickets sold on Friday and a weekend target of $8M. I Love You, Man could reach $65M domestic before it wraps its theatrical engagements.
The news is not good for the well-reviewed Miramax release Adventureland. Despite a score of 89% Fresh on Rotten Tomatoes, Greg Mottola's much-anticipated follow-up to Superbad has stumbled out of the gates with just $2.1M from 1,862 playdates. The weekend gross will likely be in the $5.7M range for a Per Theatre Average of just $3,068.
EXCLUSIVE STEVE MASON EARLY FRIDAY ESTIMATES
1. NEW – Fast & Furious (Universal) – $28M, $8,088 PTA, $28M cume
2. Monsters vs. Aliens (Dreamworks/Paramount) – $8.9M, $2,169 PTA, $81.09M cume
3. The Haunting in Connecticut (Lionsgate) – $3.75M, $1,373 PTA, $31.43M cume
4. Knowing (Summit) – $2.71M, $816 PTA, $52.78M cume
5. I Love You Man (Dreamworks/Paramount) – $2.52M, $969 PTA, $43.95M cume
6. NEW – Adventureland (Miramax) – $2.1M, $1,128 PTA, $2.1M cume
7. Duplicity (Universal) – $1.43M, $571 PTA, $29.5M cume
8. Race to Witch Mountain (Disney) – $836,000, $296 PTA, $55.87M cume
9. 12 Rounds (Fox) – $778,000, $334 PTA, $7.49M cume
10. Taken (Fox) – $650,000, $331 PTA, $134.02M cume
EXCLUSIVE STEVE MASON EARLY 3-DAY ESTIMATES
1. NEW – Fast & Furious (Universal) – $65M, $18,775 PTA, $65M cume
2. Monsters vs. Aliens (Dreamworks/Paramount) – $35.6M, $8,674 PTA, $107.79M cume
3. The Haunting in Connecticut (Lionsgate) – $10.87M, $3,981 PTA, $38.56M cume
4. Knowing (Summit) – $8.8M, $2,650 PTA, $58.88M cume
5. I Love You Man (Dreamworks/Paramount) – $8.06M, $3,102 PTA, $49.5M cume
6. NEW – Adventureland (Miramax) – $5.71M, $3,068 PTA, $5.71M cume
7. Duplicity (Universal) – $4.89M, $1,942 PTA, $32.96M cume
8. Race to Witch Mountain (Disney) – $3.26M, $1,154 PTA, $58.29M cume
9. 12 Rounds (Fox) – $2.33M, $1,001 PTA, $9.05M cume
10. Taken (Fox) – $1.48M, $1,096 PTA, $139.35M cume