Richard Kelly Updates The Box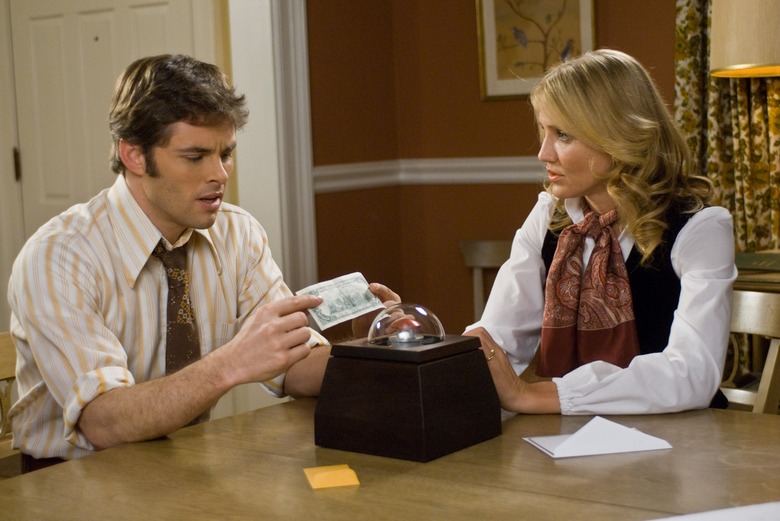 Richard Kelly has posted a new update on his blog, and gave a bunch of updates on his new film The Box:
WB is releasing the film on October 30, 2009. The release date has been shuffling around a bit, but this is common with studios, and everyone feels like this is the best date for the film
The film is completely finished. Principal photography was completed in March 2008, and it was officially delivered to WB right before Christmas 2008. A March 2009 release was briefly considered, but a Fall 2009 release was always a better fit.
We shot in Massachusetts and Virginia. The film takes place predominantly in Virginia, 1976.
The running time is 1 hour 55 minutes long including end credits.
The film was digitally photographed using the Panavision Genesis camera. In my audio commentary on Tony Scott's Domino, I mentioned that I would never shoot a 1970s period piece using a digital camera. My position on this changed when I saw David Fincher's extraordinary Zodiac. It can be done.
There is more than 300 visual effects shots, which required eight months of post-production. The digital work-flow of the Genesis was essential to completing these visual effects properly.
Win Butler, Regine Chassagne (of Arcade Fire) and Owen Pallett (Final Fantasy, frequent collaborator with Arcade Fire) recorded more than 80 minutes of score for the film.
Here is a list of artists whose songs appear in the film: GRATEFUL DEAD, DEREK & THE DOMINOS, WILSON PICKETT, THE MARSHALL TUCKER BAND, SCOTT WALKER
The official website for the film is www.thebox-movie.com – it will unveil sometime this summer.
This is my most personal film to date, and I'm very proud of how it turned out.