Box Office: Fast & Furious May Race To $48M Opening Weekend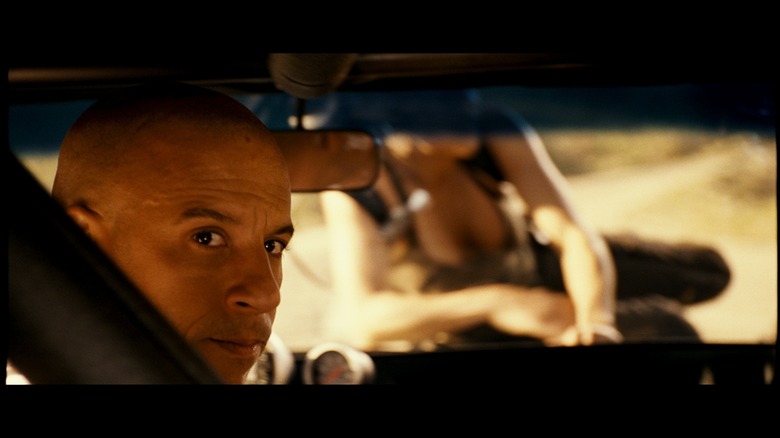 Universal's Fast & Furious will be "burning rubber" this weekend at America's multiplexes as the original street-racing cast reunites after some sub-par chapters of the franchise.
The original The Fast & The Furious hit theatres in 2001 under the direction of Rob Cohen who had shown a knack for action with Dragon: The Bruce Lee Story ($35M US cume) and Sly Stallone's Daylight ($33M US cume) and a savvy feel for bigger-than-life characters in his Golden Globe winning biopic The Rat Pack (which, if you've never seen you should put in your Netflix cue and prepare to be amazed by Don Cheadle's turn as Sammy Davis, Jr.). In tow, he had a 34-year-old Vin Diesel in only his second starring role following the surprise low budget hit Pitch Black ($39M cume) and 28-year-old Paul Walker, who had just starred in Cohen's forgettable The Skulls. Also in the cast was Jordana Brewster (As the World Turns) and a pre-Lost Michelle Rodriguez, whose most notable credit was a gritty little indie called Girlfight.
The result was box office jet fuel. Seemingly out of nowhere, The Fast & The Furious scored a scalding $40M opening weekend and reached $144.5M domestic and over $200M worldwide. But Diesel, whose signature line in the original movie is "I live my life one quarter of a mile at a time," didn't like the script for the sequel (or they wouldn't pay his asking price depending on who you ask). That led to the 2003 sequel 2 Fast 2 Furious directed by Academy Award nominee John Singleton (Boyz n the Hood) starring Walker along with rapper Tyrese Gibson and Eva Mendes. Despite Diesel's conspicuous absence, 2 Fast still delivered $127M in the US.
Two years later came the disastrous re-imagining of the franchise with The Fast & The Furious: Tokyo Drift. No Diesel. No Walker. The movie featured Zachery Ty Bryan from TV's Home Improvement and the very solid Lucas Black, who had just played quarterback Mike Winchell in the film version of Friday Night Lights and as a kid co-starred with Billy Bob Thornton in Sling Blade. The third movie in the franchise "drifted" toward irrelevancy with a very soft $23.9M opening and only $62.5M domestic.
Now, as The Blues Brothers once famously said, "We're getting the band back together!" Diesel. Walker. The still beautiful Brewster. And, the edgy Rodriguez, who, ironically, has one of the worst driving records in history (a hit-and-run, 2 DUIs and at least 3 speeding tickets including one for 90mph in a 35mph zone). This time, they are under the direction of Tokyo Drift director Justin Lin, and the reviews are less than sparkling (18% Fresh on Rotten Tomatoes), but there are some credible positive notices, including Kirk Honeycutt from the Hollywood Reporter who says, "All four films feature terrific stunts. But Fast & Furious is the first film since the original to be smart about how far to stretch logic without sacrificing the desired macho swagger and revved-up emotions."
The average street racing fan is unlikely to be a Hollywood Reporter reader, and the PG-13 rating will allow for a flood of teen boys, who have grown up playing video games like Grand Theft Auto, to pour into theatres for some high octane fun. The tracking, especially Males Under 25, looks very strong, and my prediction is for $48M, but I won't be surprised to see it speed past $50M.
Monsters vs. Aliens (Dreamworks/Paramount) has been performing very well during the week, especially in those communities where kids are off for spring break. I'll be surprised if MVA dips much more than 40% from its $59.3M opening frame. I'm predicting a $35.4M second weekend, which would mean a spectacular 10-day cume of about $106.7M.
With only two new, wide releases, The Haunting in Connecticut (Lionsgate) should hold up better-than-the-average horror movie. I am anticipating about $11.7M, which would mark only a 49% drop. With a new cume of about $40M by Monday, this low budget special will have made back its budget twice over before its done (not to mention ancillary rights).
The latest from Nicolas Cage and directed by Alex Proyas (Dark City, I Robot), is nearing profitability as well. Knowing (Summit), with a reported budget of $50M, is likely to bank another $8.7M over the weekend for a new cume of almost $59M. It is opening decently in foreign markets including $5M+ in Russia.
Director Greg Mottola's long-awaited follow-up to mega-hit Superbad ($121M US) is the much lower profile Adventureland from Miramax. The reviews are through the roof with an 85% Fresh rating from Rotten Tomatoes, and especially noteworthy is Kenneth Turan of the LA Times who writes, "With a cast that believed in one another and a writer-director who believed he didn't have to follow up Superbad with SuperEvenBadder, Adventureland is the kind of adventure we could all use more of."
This is the kind of movie that could surprise because of positive buzz, but with only 1,862 screens, it's hard to generate an eye-popping number. I'm penciling Adventureland in for $8.1M, which would still be an impressive $4,350 Per Theatre Average.
Also continuing to perform well will be I Love You, Man (Dreamworks/Paramount), adding another $7.9M or so (a small drop in the 35%-40% range). It is possible that the John Hamburg buddy comedy could top $50M by Monday.
FINAL PREDICTED BOX OFFICE FOR APRIL 3-5
1. NEW – Fast & Furious (Universal) – $48M
2. Monsters vs. Aliens (Dreamworks/Paramount) – $35.4M
3. The Haunting in Connecticut (Lionsgate) – $11.7M
4. Knowing (Summit) – $8.6M
5. NEW – Adventureland (Miramax) -$8.1M
6. I Love You, Man (Dreamworks/Paramount) – $7.9M
7. Duplicity (Universal) – $4.9M
8. Race To Witch Mountain (Disney) – $3.25M
9. 12 Rounds (Fox) – $2.3M
10. Taken (Fox) – $1.4M