Emma Stone Goes For An Easy A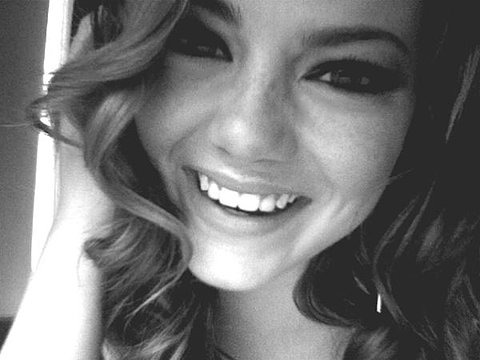 According to Variety, Emma Stone is currently negotiating her first lead role. Easy A has been scripted by Bert V. Royal, shooting-star playwright, and will be directed by Will Gluck, previously responsible for Fired Up. Mini-reviews of that one would be appreciated in the comments, just to provide some kind of indicators of potential success or failure.
I like Stone a great deal. There were some scenes in House Bunny that featured little more than Anna Faris and Emma Stone talking to one another and those were easily the best bits, with some seriously strong comedy chops on display from both parties. Stone has also been strong in her other turns, from the good-o of Superbad to the semi-crock of The Rocker, and though the character she's been landed with for The Ghosts of Girlfriends Past seems a bit broad, I trust Mark Waters and Stone enough to feel some guarded optimism for the finished film. Sadly, though, the premise of Easy A seems a little underwhelming.
The latest "literary classic gets a hall pass", Royal's script updates The Scarlet Letter to a high-school scenario. Except, of course, it doesn't. Here's how Variety explain the set up:
...the film, which centers on a student who sees her life paralleling Hawthorne's heroine Hester Prynne after she pretends to be the school slut in hopes that she'll benefit from the notion she's promiscuous.
Hester Prynne didn't pretend to be an adulteress. Key difference. And she had a child. Second key difference. Not sure what mileage there is in somebody pretending to be 'the school slut', but I suppose a protagonist who actually does act promiscuously is considerably less marketable. And teenage mothers in high school comedies... you've no doubt noticed how rare they are too.
Royal's play Dog Sees God: Confessions of a Teenage Blockhead revolved around copyright-dodging revisions of the Peanuts crew – sans Snoopy (sniff sniff) who dies from rabies in order to kick start the proceedings. The play's premiere off-broadway run featured Eliz Dushku, America Ferrera and Kelli Garner, as well as Eddie Kaye Thomas as the now teenaged "CB". I've only seen snippets online, and read the press coverage so perhaps I shouldn't even indicate how sceptical I feel about the whole enterprise. Oops.
After this, Royal was given a very lucrative deal to pen a script for Paramount. That one was reportedly about parents going on strike in protest at their teenagers' behaviour, and seems to have swerved off the map. Easy A is set up at Screen Gems, and I have no idea how much they paid out, if it compares with Paramount's six figure cheque. Big money deals or not, I think we'll be seeing Royal's name in credit rolls a fair bit over the next few years. I hope we don't come to curse it.