Spidey Gearing Up To Fight... Swiss Miss?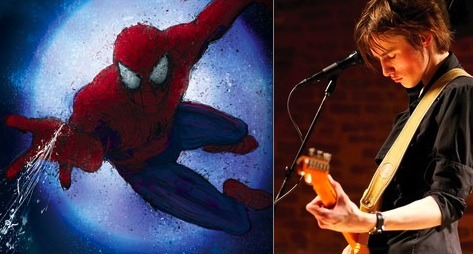 The NY Post's Michael Riedel was a naughty wee boy and went sneaking into the sales launch of Julie Taymor's new Broadway production Spider-Man: Turn Off the Dark, wherein no press were officially permitted. A slap on the wrist and a kiss on the cheek.
Riedel's report contains not only a glimpse at official artwork (see above) and some details of the special effects and set designs but also a list of the baddies due to appear – one of whom is a newbie, freshly created for the show.
The veteran villains listed are Green Goblin, Carnage, Electro, Rhino, Swarm and Lizard – every one of them a chap, I believe. Not the new creation, however. Swiss Miss is to provide a welcome dose of femininity to the web slinger's rogues gallery. Her costume apparently consists of "rotating knives and swirling corkscrews" and was designed by Eiko Ishioka, costumier for Tarsem's The Cell and The Fall, and Copolla's Dracula.
Five of Bono and The Edge's songs were performed at the presentation, one of which was favorably compared to the numbers in Rent. Frighteningly, this raises the question: what about the other four? Amongst the performers was Reeve Carney who is currently considered front runner for the role of Peter Parker. Don't expect a full-on musical, however. Taymor has been downplaying the idea somewhat, promising that Spidey "is not going to sing and dance in tights," suggesting that the term "musical" isn't quite right and calling the show a "circus rock-'n'-roll drama."
Carney is playing Ferdinand in Taymor's upcoming film of The Tempest and is hotly tipped to "make it" in this business we call show. I personally fancy Jim Sturgess for Peter Parker but somehow he seems to be out of the running, off making movies, and, then at least, Carney looks to be a great back-up. There he is at the top, guitar in hand. Like the look of him?