Box Office Tracking: Monsters Vs. Aliens Is The Widest Non-Summer Release Of All Time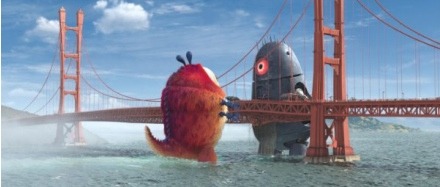 Jeffrey Katzenberg has been the film industry's strongest proponent of 3-D over the past few years, and this weekend his advocacy will start paying dividends for Dreamworks Amimation. Monsters Vs. Aliens will debut with 4,104 playdates. That makes it the 13th-widest release in modern film history, and it becomes the biggest non-summer debut of all-time.
ALL-TIME WIDEST NON-SUMMER RELEASES
- with summer defined as May 1 – August 30 -
1. 3/27/09 – Monsters Vs. Aliens – 4,104 playdates
2. 11/07/08 – Madagascar 2 – 4,056 playdates
3. 10/01/04 – Shark Tale – 4,016
4. 3/31/06 – Ice Age: The Meltdown – 3,964
5. 3/14/08 – Dr. Suess' Horton Hears A Who – 3,954
Many of those playdates are multiple screen engagements. In fact, MVA will be on over 7,000 screens. Screen counts are generally treated as "state secrets" at studios. Sony was able to secure a reported 10,000 screens for Spider-Man 3 with its 4,252 playdates back in May of 2007 (that's an average of 2.35 screens per playdate). The all-time playdate record still belongs to The Dark Knight last July with 4,366, but TDK's screen count was just over 9,200 (2.1 screens per location). Based on that calculation, Dreamworks/Paramount has on average 1.7 screens at each of its playdates.
This is a big, broad 93 minute family film, not a long, dark comic book opus (Spider-Man 3 was 139 minutes long and The Dark Knight was 152 minutes). The main reason for MVA's high screen count is 3-D. Athough when Katzenberg announced Monsters Vs. Aliens, he envisioned as many as 4,000 3-D screens, the economy has not cooperated, slowing digital conversion and limiting the number of 3-D runs. The final count of actual 3-D engagements is an estimated 2,218 (that includes 143 IMAX 3-D runs).
If you have not seen one of the all-new digital 3-D releases, you must first forget about past experiences with 3-D.  Hollywood's first flirtation was in the 1950's with movies like House of Wax and Bwana Devil. Then during my high school years, the early 1980's, 3-D made a brief resurgence with Friday the Thirteenth: Part 3-D (1982), Jaws 3-D (1983) and Amityville Horror 3-D (1983). The technology hadn't changed. It was  still cardboard glasses with colored cellophane lenses and loads of cheap gimmickry.
BOX OFFICE FOR 3-D FILMS OF THE 1980'S
Jaws 3-D – $13.4M opening – $45.5M cume
Friday the Thirteenth: Part 3-D – $9.4M opening – $36.7M cume
Amityville 3-D – $2.3M opening – $6.3M cume
This new 3-D technology is very different. It is made possible by digital presentation along with Real-D 3-D added. The cost of converting an individual theatre to 3-D is about $100,000 per screen. That includes digital projection, the most expensive piece at $75,000, the Real-D system, the special screen required and all installation. When Jeffrey Katzenberg planted his 3-D blockbuster Monsters Vs. Aliens on the release calendar two years ago, he could not have anticipated the worldwide economic meltdown.
Instead of exhibitors frantically ramping up digital conversion to show Monsters Vs. Aliens on as many 3-D screens as possible, the frozen credit markets stifled progress. Theatre chains and independent theatres have had trouble securing the financing to undertake conversions, and it is very uphill, even with distributors offering to pay a "virtiual print fee" to help cover the costs.
Dreamworks isn't the only studio with a lot riding on the success of Monsters Vs. Aliens. Disney/Pixar's next film Up is in 3-D, then there's the Robert Zemeckis 3-D version of A Christmas Carol for the holidays, and in December, James Cameron's Avatar, his first major wide release since Titanic. There are over 40 major 3-D movies in the pipeline right now. If Monsters Vs. Aliens scores big, it will be a strong incentive for theatre-owners to convert more theatres to digital.
If you are taking the kids to see MVA this weekend, be prepared for a $2-$3.50 upcharge. It may seem outrageous, but soon after you settle into your seat, you will realize that it is worth the extra couple of bucks. Digital 3-D is truly spectacular, and not in a gimmicky way. You just feel like you are in a different world. You'll forget you're wearing the stylish new 3-D glasses, and you can take part in what I think is a major innovation for the industry.
Reviews for Monsters Vs. Aliens are outstanding (73% Fresh on Rotten Tomatoes), and the pre-opening tracking is now sizzling. Given that there is an upcharge on 3-D and a bigger upcharge on 3-D IMAX, I think MVA will beat the $50M-$55M industry expectation. I believe this one will get past $60M by Monday, and, with Easter in two weeks and spring break taking place around the country for school kids, this picture has a real shot at $200M domestic and could surpass Kung Fu Panda's $215M. Worldwide, the cutting edge animated movie will likely exceed $600M.
The new Lionsgate genre pic The Haunting in Connecticut seems destined for mid-teens and a distant second, although word-of-mouth for I Love You Man is very good, and Dreamworks has an outside shot to finish 1-2. The Nic Cage sci-fi thriller Knowing (Summit) is likely to dip more than 50%, while the entertaining Julia Roberts-Clive Owen comedy/mystery Duplicity (Universal) seems as though it will hold more strongly, possibly down just 30%-35% from opening weekend for a second top five finish.
FINAL BOX OFFICE FORECAST FOR MARCH 27-29
1. NEW – Monsters vs. Aliens (Dreamworks/Paramount) – $60.64M
2. NEW – The Haunting in Connecticut (Lionsgate) – $14.6M
3. I Love You, Man (Dreamworks/Paramount) – $12M4. Knowing (Summit) – $11.8M
5. Duplicity (Universal) – $9.67M
6. NEW – 12 Rounds (Fox) – $8.1M
7. Race To Witch Mountain (Disney) – $7.14M
8. Watchmen (Warner Bros) – $2.58M
9. The Last House On the Left (Rogue) – $2.56M
10. Taken (Fox) – $1.94M