First Look: DreamWorks Animation's How To Train Your Dragon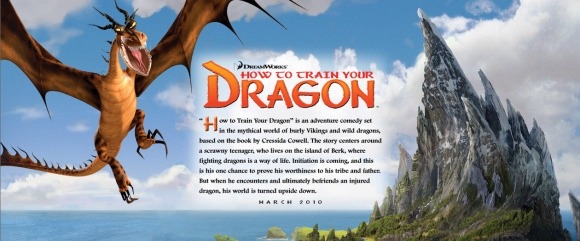 Animatoons has the first official promotional image for DreamWorks Animation's How To Train Your Dragon. The image also gives us our first real plot synopsis:
"Meet Hiccup Horrendous Haddock III, heir of the Viking chiefdom, but a boy with one very big problem: a hero he is not. "How to Train Your Dragon' is the riotous story of Hiccup's quest to hunt down the fiercest dragon, bring it into submission, and—hopefully—pass his initiation. Instead, he ends up with the smallest, most ornery dragon—it's even toothless! Thus begins the hijinx of the world's most lovable, unlikely hero and a most reluctant "beast." Packed with energetic drawings and plenty of action, this boisterous tale is just right for fantasy fans or anyone with a spirit of adventure. Based on the book by Cressida Cowell."
Directed by Chris Sanders, and featuring the voices of Jay Baruchel, Gerard Butler, America Ferrera, Jonah Hill, and Christopher Mintz-Plasse, the film is scheduled to hit theaters on March 26th 2010.