Neveldine/Taylor's Game: Italian Movie Trailer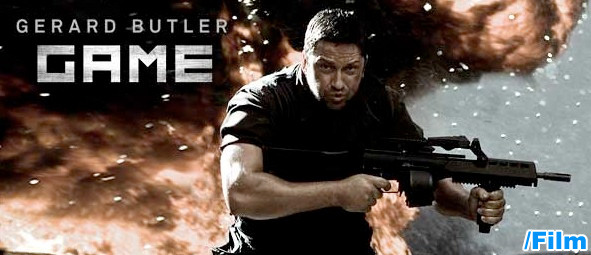 An Italian movie trailer for Game has shown up online. The new movie from Mark Neveldine and Brian Taylor – the madmen that brought us Crank takes us to the sci-fi future world where prisoners do battle in a real life video game. The trailer looks pretty insane, gritty action mixed with sci-fi futuristic tech overlays. And the sci-fi concept is the kind of impossible crazy that could lend it self to a kick ass action flick. And you have to love the use of Marilyn Manson's cover of the 1983 Eurythmics hit "Sweet Dreams (Are Made Of This)". Aparently the trailer originated from JoBlo, but I cant seem to find it on their site. Watch the trailer after the jump and let me know what you think in the comments below.
The story takes place "in the not too distant future." Kabel (Gerard Butler), a death row inmate, has unwittingly become a pop culture hero. Every week, millions worldwide tune in online to watch him and hundreds of other convicts battle in Slayers, an ultra-violent multi-player online game invented by technological genius Ken Castle (Michael C. Hall). To the wealthy young gamer who controls his every move, Kable is just a sim (simulation) character. To the resistance group that opposes Castle's games as high-tech slavery, he is a critical element in their battle to take down the inventor. Caught in the crosshairs of two opposing forces and under the command of a teenager's remote device, Kable must use his extraordinary fighting skills to escape the game, bring down Castle and overthrow the system.
A test screening was held in October, and you can read our Early Buzz report for the full scoop. Game is currently scheduled for a September 4th 2009 release.