Spider-Man Saves Autistic Boy In Thailand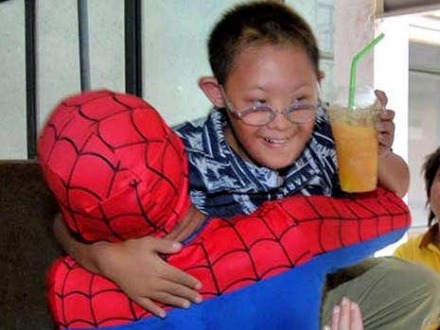 A Bangkok fireman dressed as Spider-Man rescued an eight-year-old boy who had climbed on to a third-floor window ledge. The autistic boy began crying and climbed out of a classroom window during his first day at the special needs school. When the teachers attempts to persuade the kid to come back inside failed, they called the fire station. The firemen rushed to the scene with an air cushion, but a comment made by the boy's mother prompted Somchai Yoosabai to take a completely different approach.
Somcai rushed back to the station to grab his Spider-Man costume. That's right, Yoosabai keeps a Spider-Man costume in his locker, which at first might seems rather odd. BBC claims that Mr Somchai normally uses the costume to liven up fire drills in schools. May-be he also does kids parties on the weekends, who knows? Somchai also has an outfit of Japanese television character Ultraman as well.
Anyway, at the end of the day, Spider-man climbed out onto the ledge and told the boy that "Spider-Man is here to rescue you, no monsters are going to attack you" and asked the bot to "walk slowly towards me as running could be dangerous." The boy immediately smiled, stood up, and walked into Somchai's arms.
photo credit: Bild