Hayao Miyazaki's Ponyo Gets U.S. Release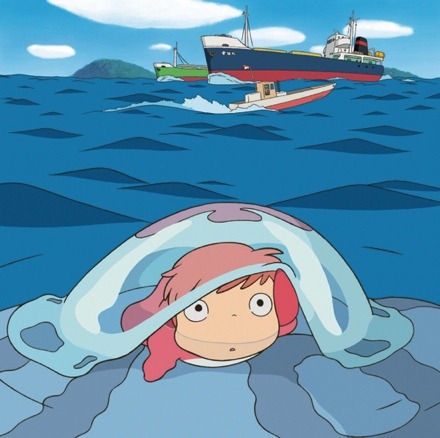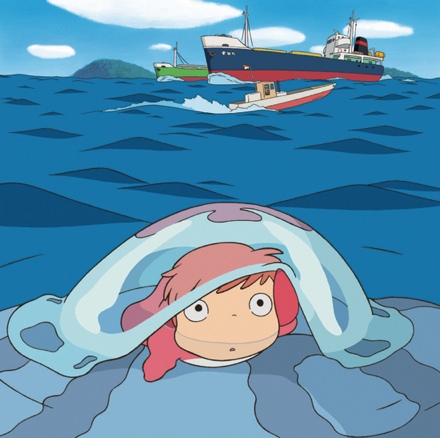 Legendary Japanese filmmaker Hayao Miyazaki's latest movie Ponyo on a Cliff by the Sea will finally be getting a domestic release. The film was released last July in Japan, and has since grossed over ¥15.0 billion ($153.1 million). Disney's John Lasseter has been working with Frank Marshall and Kathleen Kennedy to make the American release of the movie, Miyazaki's "biggest hit ever Stateside." Spirited Away earned a little more than $10 million stateside on 714 screens, and the plan is to give Ponyo an even wider release. The movie, retitled just Ponyo, hits theaters on August 14th 2009, and Disney has announced the English-language voice cast.
Noah Cyrus provides the voice of a baby goldfish named Ponyo who desires to be a human, and gets her wish. She runs away from her home in the sea and befriends a five-year-old human boy named S?suke (voiced by Frankie Jonas). Other cast members include Cate Blanchett, Matt Damon, Tina Fey, Cloris Leachman, Liam Neeson, Lily Tomlin and Betty White.
I would hope that /Film readers have seen some of Miyazaki's films, but for those of you who haven't, here are the cliff notes: Miyazaki is considered not only the Walt Disney, but also in some ways the Steven Spielberg of Japan. To give you an example of his success, Spirited Away overtook Titanic to become the highest grossing film in Japanese history. His films aren't just commercial successes but also critically acclaimed both in Japan and in America.
Spirited Away and Princess Mononoke have won Picture of the Year at the Japan Academy Prize (basically the equivalent of the Best Picture Oscar at the Academy Awards). Spirited Away also holds the honor of being the only anime film to ever win an American Academy Award. If you haven't seen any of his movies, I recommend that you run (not walk) to the store right now and buy (not rent) Spirited Away, Princess Mononoke, My Neighbor Tororo and Howl's Moving Castle.
I've embedded the Japanese trailer for Ponya below.