Coens True To True Grit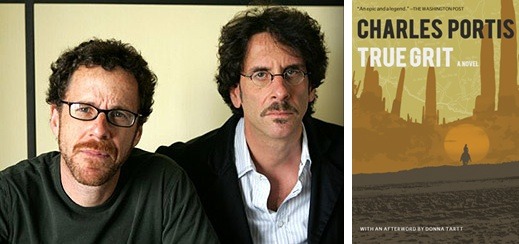 Variety are reporting that the Coen Brothers' adaptation of True Grit is set to be their next movie. Why The Yiddish Policemen's Union won't be next out of the traps, as we had previously believed it would be. I suspect it's simply that the script isn't in shape yet. For all we know, Joel and Ethan might have hit one of their legendary skid-patches of writers block with that one.
The True Grit remake first bobbed up, though wasn't widely reported, a year or so ago – The Daily Mail had the scoop then, I think, but The Daily Mail being what they are, it was easy to dismiss the whole report. They quoted Joel Coen on the casting of Mattie Ross, the 14 year old lead.
"The book recounts the girl's story. In the John Wayne film, she was played older. We want her to be her real age – it's her story!"
Speculate on casting in the comments. I'll bet on an unknown, though Saoirse Ronan seems like a great choice if they can get filming quickly. I wouldn't even want to hazard a guess at the casting of Reuben 'Rooster' Cogburn, the role made famous iconic by John Wayne in the prior big screen adaptation (and later played by Warren Oates in the TV version I can only barely remember). Whoever gets the part is very, very lucky however. They're going to be beloved once they try on Rooster's Coenised boots.
Here's the official synopsis from the novel's publishers.
Fourteen-year-old Mattie Ross's father, Frank, was killed by one of his own workers for a horse, $150 cash, and two Californian gold pieces. Though only a girl, Mattie travels to claim her father's body, but finds that the authorities are doing nothing to find his killer. This will be the beginning of her search for revenge.
The story originated as a newspaper serial in 1968. In that version, a framing device had a spinsterly Mattie narrate the story in her dotage. This was ditched for the film, though probably inspired the premise of Rooster Cogburn (...and the Lady), the 1975 cinematic follow up which saw John Wayne squabbling with Katharine Hepburn. I quite enjoyed both films, though definitely preferred Grit. Nonetheless, they won't be too tough for filmmakers of the calibre of Joel and Ethan Cohen to better. I think I need to read the novel to see the actual gold standard they should be aspiring to.
There's no trace of the script, yet, but I'm itching for a read. Anybody got a copy? Thanks.