Cool Stuff: Limited Edition Terminator 2 Complete Collector's Set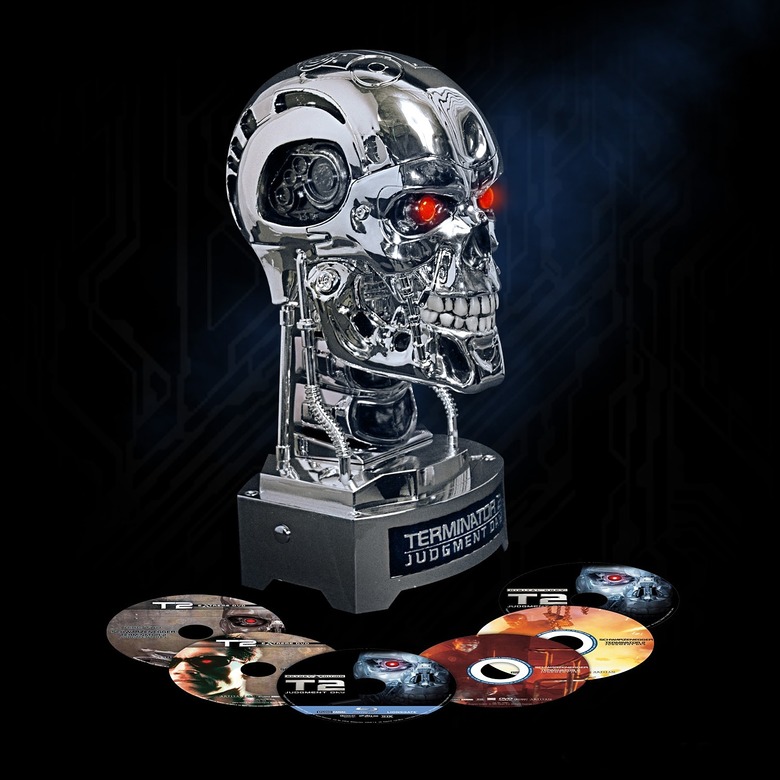 We may receive a commission on purchases made from links.
In a past edition of Cool Stuff, we posted about a very limited edition DVD player that was constructed out of a head from one of the Terminator Endoskeletons. With the upcoming release of Terminator Salvation, Lionsgate is planning to release Terminator 2 on Blu-ray on May 19th. The Terminator 2 Skynet Edition will be available for a limited time in the Limited Edition T2 Complete Collector's Set, a 6-disc set that comes packaged with a 14" T-800 Endoskull bust that plays sound effects from the film while its eyes light up. In addition to the  Terminator 2 Skynet Edition Blu-ray, the set comes with both the Extreme Edition DVD and Ultimate Edition DVD – which, combined, include every T2 special feature ever released on DVD. As a bonus, the set comes packed with a digital copy of the film for iTunes or Windows Media. Yes, six discs might be a little extreme for one movie, especially sie many of the discs include the same film with varied special features, but the Terminator skull might be too cool to pass up.
The Limited Collector's Set has a MSRP for $174.99, but is available for preorder on Amazon for $121.99. Of course, you can buy the Skynet Blu-ray edition by itself for $29.99 ($19.99 on Amazon), but that doesnt's come with the additional DVDs or Endoskeleton head. I have included more photos, details on the contents of the Skynet edition and cover art after the jump.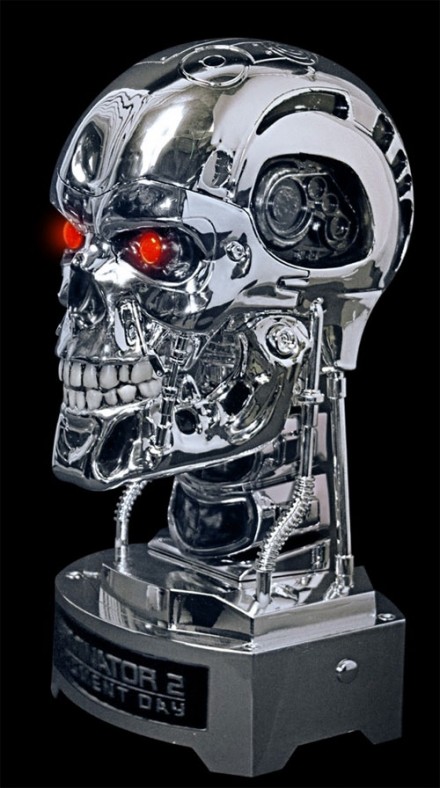 T2 Skynet Edition
Deluxe Special Edition with 140 minutes of behind-the-scenes multi-media galleries, storyboard-script views, commentaries, quizzes and games.
• Multiple THX-certified high-definition versions of the film
• All-new English 6.1 DTS-HD Master Audio Lossless
• Picture-in-picture of behind the scenes video, text commentaries and multimedia galleries
• Storyboard-script mode – view storyboards and read the script while watching the film
• Interactive quizzes and games
• BD-Live enabled, featuring games, extra content and more for Internet-connected players
• Audio commentary with 26 cast and crew members
• Audio commentary with director James Cameron and co-writer William Wisher
• Enhanced for D-Box Motion Control Systems
• Includes THX Optimizer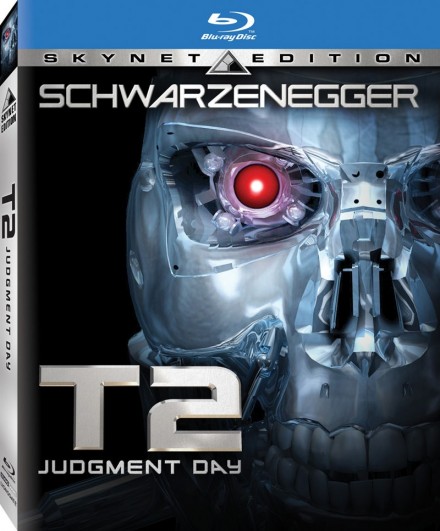 Cool Stuff is a daily feature of slashfilm.com. Know of any geekarific creations or cool products which should be featured on Cool Stuff? E-Mail us at orfilms@gmail.com.