Box Office: Summit Scores A Nice Hit With Knowing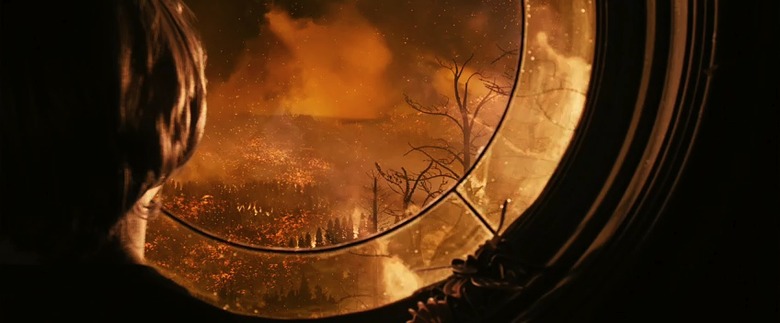 It was another good weekend for Summit Entertainment. The distributor behind last year's meteoric hit Twilight has scored a solid hit with the Alex Proyas-directed Knowing, starring Nicolas Cage. Despite shaky word-of-mouth and negative reviews, the sci-fi thriller got a solid 9% bump on Saturday for a $9.7M second day, and it will likely finish its opening weekend with a possible $24.8M.
As a production company, Summit is responsible for some monster hits, including commercially and/or artistically successful films like Once (Oscar nominee for Best Picture), American Pie ($102..5M domestic), Memento (Oscar nominee for Best Original Screenplay: Chris Nolan), Mr. & Mrs. Smith ($186.3M domestic) and In the Valley of Ellah (Tommy Lee Jones nominated for Best Actor). But as a distributor, they got off to a slow start.
SUMMIT RELEASES
- in sequential order -
11/9/07 – P2 – $4M cume
2/29/08 – Penelope – $10M cume
3/14/08 – Never Back Down – $24.8M cume
8/15/08 – Fly Me To the Moon – $13.2M cume
10/17/08 – Sex Drive – $8.4M cume
11/21/08 – Twilight – $191.3M cume
2/6/09 – Push – $30.9M cume
3/20/09 – Knowing – $24.8M opening – $55M-$60M projected cume
As I wrote Friday, I think that word-of-mouth is weak for Knowing, but the movie held up pretty well over opening weekend. It is definitely helped by it's PG-13 rating, its appeal to Males Under 25 (especially Under 17's), and its similarity to Cage's National Treasure franchise.
Meanwhile, I Love You, Man (Dreamworks/Paramount) ticked up 8% on Saturday to about $6.8M, and it will have banked about $18M by Monday morning. That is on par with Paul Rudd's Role Models ($19.1M opening) and Jason Segal's Forgetting Sarah Marshall ($17.7M opening). I'm sticking with $65M-$70M as my projection for domestic box office for this very funny movie that happens to have a very good heart.
I really wonder about the R-rating for I Love You, Man. It is a very, very soft R. There is no nudity or sex (although there are references to oral sex in particular), and it doesn't roll up a high count of F-bombs. It seems to me that the ratings board was hard on this one, and a PG-13 rating could have meant an additional $5M-$8M (at least) on opening weekend.
The other new wide release is Duplicity (Universal), starring Julia Roberts and Clive Owen. This is a very smart, densely-plotted, stylish-looking movie for grown-ups. Writer/director Tony Gilroy is among the best screenwriters in town with all three Jason Bourne movies on his resume along with the legal thriller Michael Clayton, nominated for 7 Academy Awards.
With Females 25 Plus as its most important demo, the film got a big 27% Saturday bump to almost $6M. I saw the movie Saturday night, and it was about 60% women with lots of women in pairs and groups. That is a very good sign for future weeks since Females 25 Plus are never in a rush to see a movie on opening weekend. The audience I was in was mesmerized and laughed in all the right places, but overall, the CinemaScore exit survey was only a C. I still belive that, after a $14.4M third-place finish, Duplicity will get to the $45M-$50M range in the US.
Race to Witch Mountain (Disney) is not holding well at all, dipping to $13M for the weekend. A 46% second weekend drop spells an early end for the new one starring Dwayne "The Rock" Johnson. It is just not especially well-liked, and Monsters Vs. Aliens (Dreamworks Animation) will destroy it next weekend.
Finally, Watchmen (Warner Bros) suffered a second consecutive disastrous 3-day, down another 62% to $6.7M for a 17-day cume of $98M. Zack Snyder's adaptation of Alan Moore's classic graphic novel is unlikely to reach much past $110M in the US, and with a soft foreign performance as well, it will struggle to reach any real profitability.
STUDIO 3-DAY ESTIMATES
1. NEW – Knowing (Summit) – $24.81M, $7,447 PTA, $24.81M cume
2. NEW – I Love You, Man (Dreamworks/Paramount) – $18M, $6,640 PTA, $18M cume
3. NEW – Duplicity (Universal) – $14.4M, $5,595 PTA, $14.4M cume
4. Race to Witch Mountain (Disney) – $13M, $4,080 PTA, $44.71M cume
5. Watchmen (Warner Bros) – $6.72M, $1,916 PTA, $98M cume
6. The Last House on the Left (Universal) – $5.92M, $2,465 PTA, $24.04M cume
7. Taken (Fox) – $4.4M, $1,654 PTA, $133.43M cume
8. Slumdog Millionaire (Fox Searchlight) – $2.7M, $1,306 PTA, $137.2M cume
9. Tyler Perry's Madea Goes To Jail (Lionsgate) – $2.51M, $1,368 PTA, $87.2M cume
10. Coraline (Focus) – $2.14M, $1,498 PTA, $72.8M cume