Box Office: Knowing Grabs $8.8M Friday, Targets $24M Weekend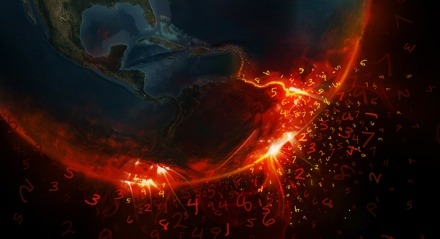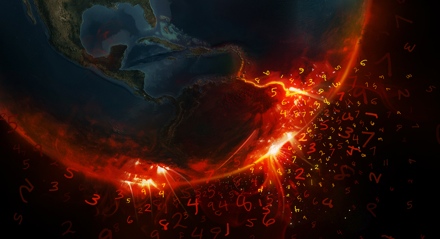 Early box office returns are pointing to a weekend win for Knowing from Summit, but I will put my money on I Love You, Man (Dreamworks/Paramount) to generate more in US ticket sales over the long haul. The Nicolas Cage sci-fi thriller has grabbed an estimated $8.8M to start the weekend, and it will likely finish at $24M or so. That is, unless word-of-mouth catches up to it first.
Reviews for Knowing, written and directed by Alex Proyas, the inventive filmmaker behind the visually striking 1998 film Dark City and the 2004 Will Smith mega-hit I, Robot, has received overwhelmingly negative reviews (25% Fresh on Rotten Tomatoes), but thanks to Twitter, real-time movie-goer reactions spread like wildfire. Here are some Tweets I just grabbed off the social networking platform.
Just saw the Knowing. How and why some movies get made is beyond me.
Nobody go see Knowing.
The Knowing was a great movie. BUT it made absolutely no sense, got kinda scary, and made me cry.. three times. Imagine Noah's Ark in space.
Getting home from a lame movie. "Knowing" is better left unknown.
Just saw "Knowing" with Nicholas Cage – LOVED IT – don't think many will though
Notice the last Tweet. That movie fan is actually already anticipating bad word-of-mouth. Maybe they saw Knowing with friends, and they were the only one who liked it, or maybe the general reaction in the theatre was negative. Here's an even scarier Tweet.
I'm in the worst movie ever, Knowing. Horrible.
Think about this. Someone is sitting in the theatre on a Friday night, and, while the movie is still playing, they send out a terrible personal review. Studios used to be able to count on suckering people into theatres for a bad movie as long as they had a big star and some cool commercials. Now, because of texting, Twitter and even Facebook (which has switched to a more Twitter-like status report format), poor reviews from Friday ticket-buyers may depress box office on Saturday and Sunday.
You have to wonder who is giving Academy Award winner Nicolas Cage career advice. Look at the Rotten Tomatoes review scores for his last 10 movies.
ROTTEN TOMATOES REVIEW SCORES FOR THE LAST 10 NIC CAGE MOVIES
-live action lead roles -
Knowing – 25%
Bangkok Dangerous – 9%
Ghost Rider – 27%
National Treasure 2 – 32%
Next – 30%
The Wicker Man – 15%
World Trade Center – 70%
Lord of War – 61%
The Weather Man – 57%
National Treasure – 43%
Obviously, there is sometimes a huge disconnect between critical and commercial success. Ghost Rider and the National Treasure films were huge blockbuster hits, but The Wicker Man, Next, and Bangkok Dangerous were flat-out awful.
Despite initial reactions, the family-friendly PG-13 rating and similarity to National Treasure will still sell some tickets in the next few weeks. The movie is likely headed to something in the $52-$60M range in the US, and it will likely perform fairly well overseas because of Cage's drawing power.
At #2 for the day, and most likely for the 3-day, is John Hamburg's I Love You, Man starring Paul Rudd and Jason Segal. Riding phenomenal reviews (81% Fresh on Rotten Tomatoes) and huge buzz from its screening at the South By Southwest Conference and Festival, the R-rated comedy has opened to about $6.9M Friday, and I am projecting $20.35M for opening weekend.
Among the Twitteratti (tech slang for the early adopters of Twitter), I Love You, Man is already a word-of-mouth hit. Here are some sample Tweets.
go see I Love You Man, its HILARIOUS.
i love you, man is one of the funniest movies i have seen in a while.
Just saw I Love You, Man. Waaaaaay funnier than I expected. Oh god, it was good. Stay a little bit into the credits if you go.
Just saw "I love you, Man" it was awesome!
Just saw "I Love You Man." Loved it! Haven't laughed that hard in awhile!
I love I Love You, Man. I'm also in love with Rashida Jones.
"I Love You, Man" – while not lol hysterical, was pretty funny in parts (albeit raunchy) ... overall, I enjoyed it ... solid B or B+
We are in a sort of a Golden Age for raunchy R-rated comedy, and this movie is an above average example. Rudd, who made his name as a supporting player in Judd Apatow films like Anchorman and The 40-Year-Old Virgin, is on a roll. Fresh from the success of last year's Role Models ($67.3M US), he is the protagonist here, playing a charming dork without a best friend to be the best man at his wedding. Enter Jason Segal from TV's How I Met Your Mother, a guy who scored huge with last year's sleeper hit Forgetting Sarah Marshall ($63.1M domestic). As Sydney Fife, Segal is the ideal Venice Beach bum talking about his "Man Cave" and idolizing the band Rush, which reached its pinnacle in the 70's and 80's.
Writer/director John Hamburg, who previously wrote the classic Meet the Parents, followed by Zoolander (a cult fave of many) and Meet the Fockers (a mega-hit with over $500M worldwide despite falling well short of the laughs in the original Meet the Parents), made his directorial debut with the forgettable Along Came Polly ($88M domestic), starring Ben Stiller and Jennifer Aniston.
If you wouldn't have shown me the credits for I Love You, Man, I would have assumed that comedy king Judd Apatow has something to do with this one, but his name is nowhere to be found. Hamburg has grabbed reliable Apatow players like Rudd and Segal (Apatow produced Forgetting Sarah Marshall and the short-lived TV series Undeclared, starring Segal), and created a pic that looks and feels like an Apatow movie.
In my mind, the so-called Golden Age of R-rated comedy began in the summer of 2005 with Wedding Crashers and The 40-Year-Old Virgin. Audiences have a real appetite for this niche, and, aside from Will Ferrell's misguided hoops pic Semi-Pro, The Heartbreak Kid from the Farrelly Brothers and Weinstein Company's 2008 Zack & Miri Make a Porno, the movies have delivered both critically and commercially.
THE TOP 15 GROSSING R-RATED COMEDIES FROM "THE GOLDEN AGE"
1. 7/15/05 – Wedding Crashers – $33.9M opening – $209.2M cume
2. 8/17/07 – Superbad – $33M opening – $121.4M cume
3. 7/25/08 – Step Brothers – $30.9M opening – $100.4M cume
4. 6/1/07 – Knocked Up – $30.7M opening – $148.8M cume
5. 11/3/06 – Borat – $26.4M opening – $128.5M cume
6. 8/13/08 – Tropic Thunder – $25.8M opening – $110.5M cume
7. 8/6/08 – Pineapple Express – $23.2M opening – $87.3M cume
8. 8/19/05 – The 40-Year-Old Virgin – $21.4M opening – $109.4M cume
9. 11/7/08 – Role Models – $19.1M opening – $67.3M cume
10. 4/18/08 – Forgetting Sarah Marshall – $17.7M opening – $63.1M cume
11. 2/29/08 – Semi-Pro – $15M opening – $33.5M cume
12. 10/5/07 – The Heartbreak Kid – $14M opening – $36.8M cume
13. 9/21/07 – Good Luck Chuck – $13.6M opening – $35M cume
14. 10/31/08 – Zack & Miri Make A Porno – $10M opening – $31.4M cume
15. 8/25/06 – Beerfest – $7M opening – $19.2M cume
The multiple – the number you multiply opening weekend by in order to reach the final domestic gross – will be high here. My early rough projection for gross domestic box office for I Love You, Man is something in the $67M-$75M range.
The other wide release is Tony Gilroy's Duplicity (Universal), starring Oscar winner Julia Roberts and Academy Awards nominee Clive Owen. Gilroy is directing for only the second-time after his Oscar nominated performance with Michael Clayton. He is a writer first, and, in addition to scripting the three Jason Bourne movies, he loves corporate paranoia (like in 1997's over-the-top The Devil's Advocate) and intricate plotting (as in 2000's Proof of Life and Michael Clayton). Duplicity plays to his strengths.
Despite the presence of the rarely-seen Roberts, the film has failed to top industry expectations. Duplicty grabbed an estimated $5M on opening day and seems headed for about $14.48M and third-place by Monday. Because 25 Plus Females don't always rush right out to see a movie, this one could still get to $40M-$45M domestic, which would be respectable.
I had penciled in Disney's Race To Witch Mountain, starring Dwayne "The Rock" Johnson, for #3 with about $17M, but the movie is not holding well at all. Race managed only $3.6M on its second Friday, and I am targeting $13.86M for the weekend. That's a 10-day cume of a rather soft $45.57M. The Dreamworks Animation 3-D spectacle Monsters Vs. Aliens will wipe it out next weekend.
Rounding out the top five is Watchmen (Warner Bros), suffering another 60% drop. The Zack Snyder-directed graphic novel adaptation sold just $2.2M in tickets Friday, and the 3-day will be about $7M. On Monday, the movie's domestic take will be at $98.37M, and Watchmen will look to fizzle to about $110M in the US.
PLEASE NOTE: I appreciate links to this column, but on some sites, people have been copying and pasting the whole column. It's fine if some numbers are re-printed, but please link for the full story. Thanks!
EXCLUSIVE STEVE MASON EARLY FRIDAY ESTIMATES
1. NEW – Knowing (Summit) – $8.8M, $2,641 PTA, $8.8M cume
2. NEW – I Love You Man (Dreamworks/Paramount) – $6.9M, $2,545 PTA, $6.9M cume
3. NEW – Duplicity (Universal) – $5M, $1,942 PTA, $5M cume
4. Race to Witch Mountain (Disney) – $3.6M, $1,130 PTA, $35.31M cume
5. Watchmen (Warner Bros) – $2.2M, $627 PTA, $93.53M cume
6. The Last House On the Left (Rogue) – $2.17M, $903 PTA, $20.29M cume
7. Taken (Fox) – $1.45M, $545 PTA, $130.48M cume
8. Slumdog Millionaire (Fox Searchlight) – $1.05M, $510 PTA, $135.55M cume
9. Tyler Perry's Madea Goes To Jail (Lionsgate) – $1M, $545 PTA, $85.69M cume
10. Paul Blart: Mall Cop (Sony) – $650,000, $369 PTA, $139.85M cume
EXCLUSIVE STEVE MASON EARLY 3-DAY ESTIMATES
1. NEW – Knowing (Summit) – $24M, $7,210 PTA, $24M cume
2. NEW – I Love You, Man (Dreamworks/Paramount) – $20.35M, $7,508 PTA, $20.35M cume
3. NEW – Duplicity (Universal) – $14.48M, $5,626 PTA, $14.48M cume
4. Race to Witch Mountain (Disney) – $13.86M, $4,349 PTA, $45.57M cume
5. Watchmen (Warner Bros) – $7.04M, $2,006 PTA, $98.37M cume
6. The Last House on the Left (Universal) – $5.96M, $2,483 PTA, $24.09M cume
7. Taken (Fox) – $4.64M, $1,744 PTA, $133.67M cume
8. Slumdog Millionaire (Fox Searchlight) – $3.83M, $1,863 PTA, $138.33M cume
9. Tyler Perry's Madea Goes To Jail (Lionsgate) – $3.45M, $1,880 PTA, $88.14M cume
10. Paul Blart: Mall Cop (Sony) – $2.37M, $1,346 PTA, $141.58M cume