50 Cent Replaces Forest Whitaker In The Expendables?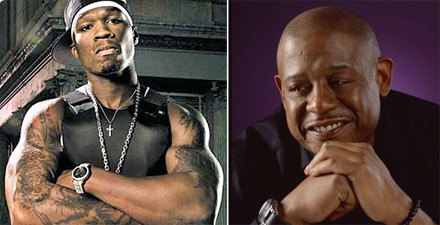 AICN has a bit of bad news. Apparently, Forest Whitaker has dropped out of Sylvester Stallone's The Expendables due to a scheduling conflict, and has been replaced with... 50 Cent?! I mean, there had to be some better choices, right? Replacing an Academy Award-winning actor with the guy best known for Get Rich or Die Tryin' doesn't seem like a lateral move to me.
50 Cent will now play Agent Will Sands, a CIA liaison for "a group of mercenaries who are clandestinely sent to South America to overthrow a dictator." The film already has an all-star action-film line-up: Stallone, Mickey Rourke, Jet Li, Jason Statham, Eric Roberts, Dolph Lundgren, "Stone Cold" Steve Austin and UFC star Randy Couture.