Behind The Scenes Of The Book Of Eli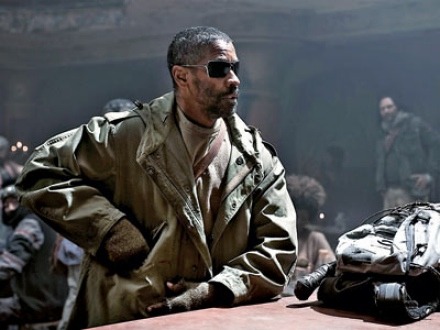 Entertainment Tonight visited the New Mexico set of the Hughes Brothers' The Book of Eli and released one of those annoying video packages of a "reporter" roaming the set, making lame jokes, and not really learning anything about the actual movie itself. Regardless, it might still be worth watching. The sequence they are filming is the movie's climactic western-style shoot-out between Denzel Washington and Gary Oldman. In a rare moment where the ET editor let some actual information slip though, Mila Kunis explains that the film is set in the future after the sun has exploded, leaving earth to rot. Unfortunately, the editor cuts away before Kunis explained how the nearest gigantic star exploded but didn't destroy our planet.
Described as a post-apocalyptic western,, the film tells the story of a lone man (Washington) who fights his way across America in order to protect a sacred book that holds the secrets to saving humankind. Gary Oldman, Mila Kunis, Ray Stevenson and Jennifer Beals co-star.Watch the Entertainment Tonight footage after the jump.
The Book of Eli hits theaters on January 15th 2010.
via: FirstShowing