First Look: Concept Art For Fox Atomic's Blacklight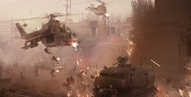 Fox Atomic has acquired the rights to turn indie developer Zombie Studio's original action property Blacklight into a feature film, comic book series and video game. The multi-pplatform project is described as "a covert military action epic set twenty-five years in the future." Both the game and movie will be written by Jason Dean Hall, whose film Spread (Ashton Kutcher/Anne Heche) sold at Sundance to Summit Entertainment.
And according to the official press release, everything will be intertwined. The movie, , video game, and comics will feature "the same characters and high caliber military action, but with unique, intersecting storylines that complement each other." The images in this post is actual concept art from the projects. More photos after the jump.
No release dates for any of the properties have yet been announced.