The Return Of Page 2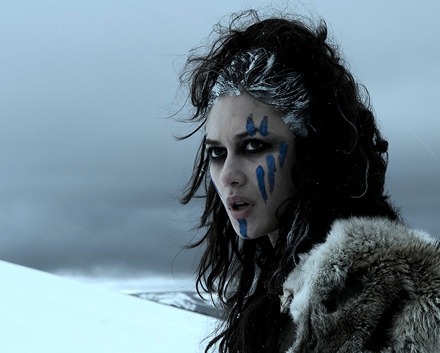 There has been so much movie news lately that night after night, there is a bunch of stories that end up on "the cutting room floor". From time to time on /Film, we've had a link blog column called Page 2 which rounds up a bunch of the stuff that didn't deserve a full post or maybe we just didn't have enough time to get to. I'd love to tell you that Page 2 is back for good, but I cant promise that. The front page news is always my first priority. That said, I promise I'll try to crank a few of these out a week so that you guys don't miss some of the goodies that didn't make the front page.
Empire has a first look at Olga Kurylenko in Neil Marshall's Centurion (photo above). Olga plays Etain, "a savage-looking Pict warrior woman" who is out for revenge against the Roman's that butchered her family and cut out her tongue.
Paramount has acquired the big screen rights to John Le Carre's novel "The Night Manager." Brad Pitt's Plan B is producing the espionage thriller which tells the story of a "night manager of a European hotel who is recruited by intelligence agents to infiltrate the network of a dangerous international arms dealer." [Variety]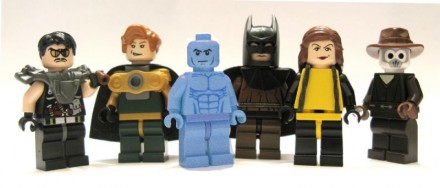 Someone created these custom Watchmen LEGO figures. [mechazilla]
Pro wrestler turned actor Stone Cold Steve Austin has joined the cast of Sylvester Stallone's The Expendables.  [variety]
Alex Proyas talks about his five favorite films on Rotten Tomatoes. The films include Dr. Strangelove, Stalker, The Exorcist, Psycho, and The Godfather. Three out of the five films have a tamatoemeter rating of a perfect 100%.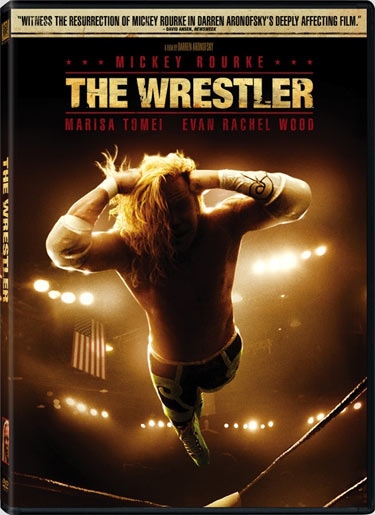 I really don't like the DVD artwork for Darren Aronofsky's The Wrestler. [alwayswatching]
Jessie Eisenberg has been cast as poet Allen Ginsberg in Kill Your Darlings, an ensemble thriller about the murder that helped spawn the Beat Generation. [Variety]
Universal is considering a fifth Fast and the Furious film set in Europe. Why, why, why?! [firstshowing]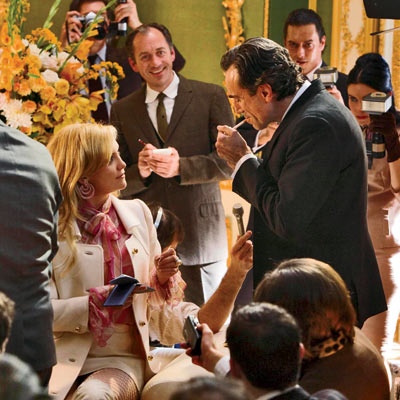 Entertainment Weekly has a new photo from Rob Marshall's musical Nine featuring Daniel Day-Lewis (right) as a "film director surrounded by alpha women", including Penélope Cruz, Nicole Kidman, and Kate Hudson (left), who plays a Vogue reporter.Blue Sky Disney is reporting that Pixar's Up will not have a Toy Story 3 trailer attached, but instead a trailer for Disney's hand drawn animated film The Princess and the Frog.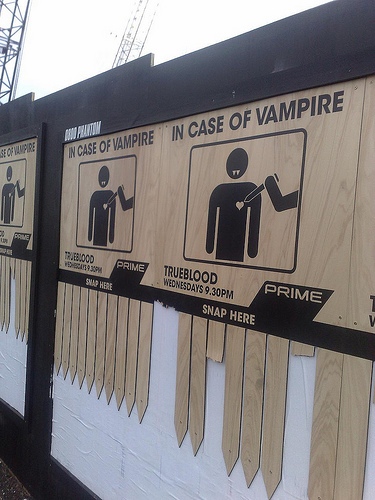 The viral advertisement for True Blood (photo above) was spotted in Auckland, New Zealand. From the looks of it, passerby's can rip off a wooden stake incase of a vampire attack. Got to love that kind of marketing. But it's only fun until someone gets stabbed in the chest (which probably explains why I haven't seen the same street advertising in the overly cautious U.S.) [via: DailyWhat]
This week's Irish-themed episode of The Simpsons will bow air in Ireland and the U.K., which surprisingly is the first time the show has ever aired an episode outside of the U.S. [Variety]
SNL star Andy Samberg is set to host the eighteenth annual MTV Movie Awards on Sunday May 31st from the Gibson Amphitheatre in Universal City, CA. [CS]
BoingBoing has a look back at the Bollywood Superman.Love Never Dies, the stage-sequel to Phantom of the Opera will have it's North American premiere in October at Toronto's Canon Theater, where the original production launched its Canadian run in 1989. [Variety ]Karl Urban and Adriana Barraza (Babel) join Amber Heard and Odette Yustman in Marcos Efron's thriller remake of And Soon the Darkness. The story follows a "young American searches for her friend in Argentina after she goes missing on a bike-riding trip." [THR ]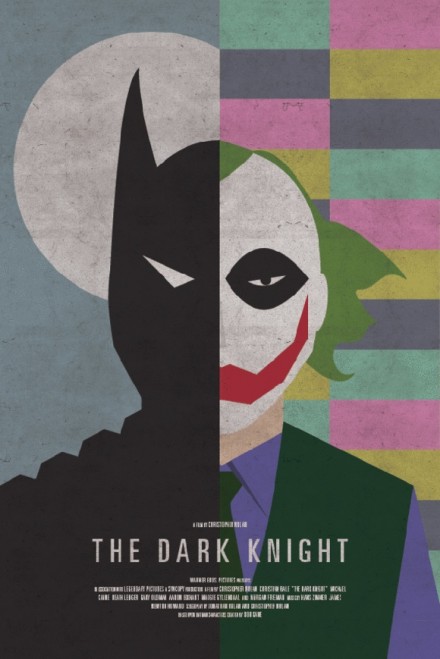 I'm not sure the name of the artist that created this fan-created poster for The Dark Knight, but it was anonomously sent in by a reader. I certainly dig it. [Update: The creator of this poster is Brandon Schaeffer. You can check out his work at http://www.seekandspeak.com.]