Russell Brand Talks Sarah Marshall Spin-Off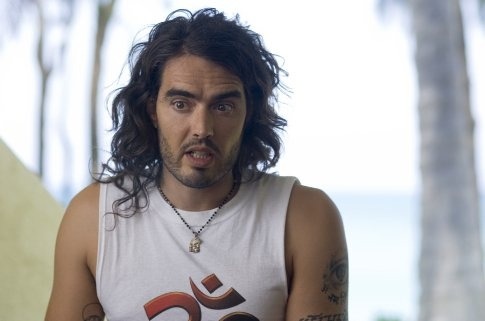 The other night on Late Night With Jimmy Fallon, Russell Brand appeared to promote his new book. During the appearance, he talked briefly about the announced Forgetting Sarah Marshall spin-off film Get Him to the Greek, where Russell reprises his role as British rock star Aidous Snow.
"I'm playing that character, Aidous Snow again, in a movie that Judd Apatow is producing. I'm starring alongside the brilliant actor Jonah Hill. [In the movie] Aidous Snow has gone back on drugs and Jonah Hill is his friend and they go on many adventures together. It's very exciting."
Sarah Marshall helmer Nicholas Stoller is signed to direct. Russell supposedly already filmed a montage of sex scenes last summer featuring a series of celebrity cameos which include Katy Perry, Christina Aguilera and Pink. Strangely, Hill plays a completely different character than the guy he played in Sarah Marshall. He plays a young music executive who bullshits his way into accompanying Aidous (or babysitting the rockstar) from London to Los Angeles, where he has a big performance at the Greek Theatre. Filming begins in April and will span Los Angeles, Las Vegas, New York and London. You can watch Brand's appearance on the show embedded below. Thanks to /Film reader Bryan W for the tip.