Cool Stuff: Ghostbusters Vs. Jesus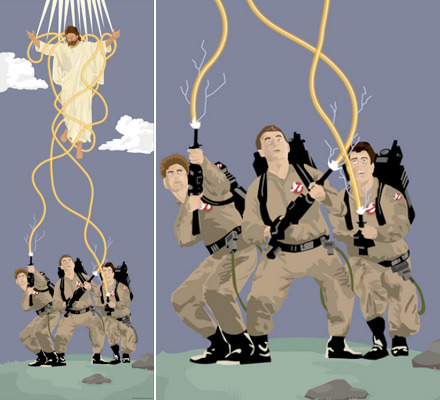 Jon Andrew Davis created "Ghostbusters vs. Jesus" for a 2009 gallery show at ArtWorks in Harrisonburg VA. It features the Ghostbusters pulling Jesus back to earth as he attempts to ascend into heaven. The title of the Show was Divine Comedy because it "uses humor to get people to think about religious authority and fundamentalism. " Based loosely on an internet meme that was created by an unknown artists a couple years back (there is actually an argument in the flickr comments about what constitutes copyright infingement on an internet meme). Davis writes that he has "a deep interest in internet culture, especially in memes and their evolution, and it can be seen in several" of his works. David is selling 24 x 60 and 24x10 prints of the art on ETSY. Check out a larger version of the image after the jump.

Cool Stuff is a daily feature of slashfilm.com. Know of any geekarific creations or cool products which should be featured on Cool Stuff? E-Mail us at orfilms@gmail.com.

via: DailyWhat