Sam Raimi's Drag Me To Hell To Premiere At SXSW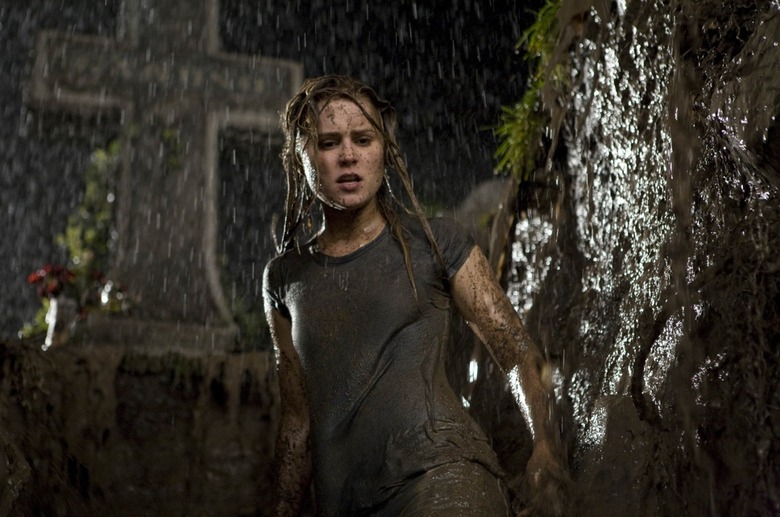 South By Southwest has announced that Sam Raimi will premiere a work-in-progress print of Drag Me To Hell, and Jonathan Demme will premiere his new Neil Young performance film, Neil Young Trunk Show, at the upcoming 2009 film festival. Read the full press release after the jump.
SAM RAIMI TO DEBUT WORK-IN-PROGRESS DRAG ME TO HELL, JONATHAN DEMME TO PREMIERE NEIL YOUNG FILM AT SXSWAustin, Texas – March 3, 2008 – The South by Southwest (SXSW) Film Conference and Festival announced major new additions to its 2009 Festival today. Director Sam Raimi (Spider-Man series, Evil Dead trilogy) will debut a work-in-progress version of Universal Pictures' horror film Drag Me to Hell, the long awaited return to his roots in the genre. The film, which stars Alison Lohman and Justin Long, is an original tale of a young woman's desperate quest to break an evil curse. Raimi will be in attendance to introduce the screening at midnight, Sunday, March 15, at the Paramount Theatre. Jonathan Demme (Rachel Getting Married, Neil Young: Heart of Gold) will premiere his new Neil Young performance film, Neil Young Trunk Show, on Saturday, March 21, at the Paramount Theatre. The SXSW Film Conference and Festival runs March 13 – 21, 2009, in Austin, Texas.
"Both Sam Raimi and Jonathan Demme add tremendous weight to our program," said Film Conference and Festival Producer Janet Pierson, "and we are beyond privileged to screen films that are not only highly anticipated by fans and industry alike, but are truly inline with SXSW sensibilities."
Universal Pictures' Drag Me to Hell also stars Lorna Raver, Dileep Rao, David Paymer and Adriana Barraza. The horror film is written by Sam Raimi & Ivan Raimi, produced by Rob Tapert and Grant Curtis and executive produced by Joe Drake and Nathan Kahane. The story follows Christine Brown (Alison Lohman), an ambitious L.A. loan officer with a charming boyfriend, professor Clay Dalton (Justin Long). Life is good until the mysterious Mrs. Ganush (Lorna Raver) arrives at the bank to beg for an extension on her home loan. Should Christine follow her instincts and give the old woman a break? Or should she deny the extension to impress her boss, Mr. Jacks (David Paymer), and get a leg-up on a promotion? Christine fatefully chooses the latter, shaming Mrs. Ganush and dispossessing her of her home. In retaliation, the old woman places the powerful curse of the Lamia on Christine, transforming her life into a living hell. Haunted by an evil spirit and misunderstood by a skeptical boyfriend, she seeks the aid of seer Rham Jas (Dileep Rao) to save her soul from eternal damnation. To help the shattered Christine return her life to normal, the psychic sets her on a frantic course to reverse the spell. As evil forces close in, Christine must face the unthinkable: how far will she go to break free of the curse?
Trunk Show: a traveling display of unique goods, packed and unpacked along the way. In Neil Young's case it's a display of soul in the musical and spiritual sense. Jonathan Demme presents Neil Young Trunk Show with Young in the middle of a stage full of personal icons, at times alone in the center of a circle of his beloved acoustic guitars, at others in the midst of a handful of much-beloved musicians Ben Keith, Rick Rosas, Ralph Molina, wife Pegi Young and Anthony Crawford. There are delicately offered piano/guitar/voice numbers like "Ambulance Blues" and "Mexico"; mesmerizing electric travelogues into the artist's psyche ("No Hidden Path"); searing, chaotic anthems like "Hurricane" and "Spirit Road"; and rarely performed pieces, like "Harvest" that provide glimpses of Young's less public persona. Shot with a mix of video and film cameras, mostly hand-held, the NYTS follows the assembling and presenting of a concert in breathtakingly intimate fashion, catching lighter moments backstage and between songs with Neil, the band and the crew. Onstage, at times using dramatically long takes, Demme allows the audience to experience Young opening up his heart song by song, and then blowing it all away in heated, uninhibited displays of rock and roll power. Presented by Clinica Estetico and Shakey Pictures, Neil Young Trunk Show is produced by Elliot Rabinowitz, Jonathan Demme and Bernard Shakey.
The SXSW Film Festival (March 13 – 21 in Austin, TX) will open on March 13 with a screening of I Love You, Man, directed by John Hamburg and starring Paul Rudd, Jason Segel and Rashida Jones. The complete lineup and schedule can be found at http://sxsw.com/film/screenings/films/. SXSW will also host more than 60 Film Conference panels, which will take place Friday, March 13 – Tuesday, March 17. For full panel descriptions and participants, visit www.sxsw.com/film/talks/panels. Check out http://www.sxsw.com/film often for more information and updates.
South By Southwest Film Conference & Festival
SXSW offers a uniquely creative space for filmmakers, film fans, and even cinephiles to partake in the big and small picture discussions about filmmaking today. The Conference hosts a five-day adventure in the latest filmmaking trends and new technology, featuring Conversations with film icons, intimate mini-meetings and one-on-one mentor sessions with industry veterans. The internationally-acclaimed, nine-day Festival boasts some of the most wide-ranging programming of any US event of its kind, from provocative documentaries to subversive Hollywood comedies, with a special focus on emerging talents. Learn more at sxsw.com/film.