Kevin Smith To Direct A Couple Of Dicks?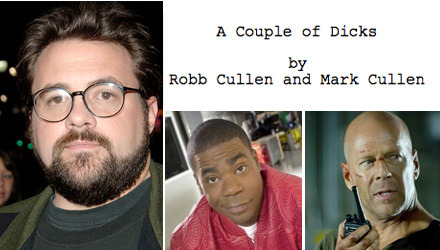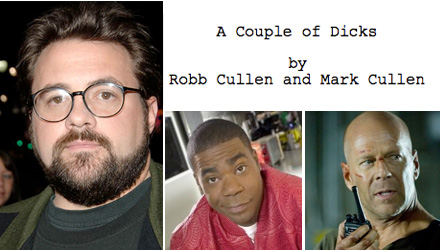 For a while now, Kevin Smith has been trying t get his indie horror film Red State off the ground. But by the director's own admission, the project isn't exactly marketable, and the plan was to film it on the cheap with no big stars. It seemed obvious to me that the film is going to take a few years to get off the ground, and won't be going into production any time soon.
Now ERC Box Office is reporting that Kevin Smith will be directing a movie called A Couple of Dicks for Warner Bros. This will be a big departure for Smith — not only is the film being produced outside of Miramax/The Weinstein Co (aka his first big studio film), but this would be the first feature film project that Smith didn't write himself. Recently Smith has made comments on his podcast, Smodcast, that he wouldn't be against directing someone else's screenplay, a possibility he had ruled out in his earlier years. It should be noted that Smith has tested the waters by directing the pilot episode of the CW television show Reaper.
So what is A Couple of Dicks about? Written by Robb and Marc Cullen, and featured on the 2008 Black List (a Hollywood insider list of the best unproduced screenplays of the year), A Couple of Dicks tells the story of" two veteran LAPD detectives attempt to track down a stolen, mint-condition, 1952 baseball card." Robin Williams was originally attached to star, but the project went into turn around, and apparently Bruce Willis and Tracy Morgan are now attached to the project, which has a tentatively scheduled January 29th 2010 release date.
We've sent an e-mail to the man himself to get a confirmation or denial on this story (we'll keep you updated), but from my view, all the facts seem to add up nicely and neatly. Smith worked with Bruce Willis on Live Free or Die Hard and Tracy Mogan pre-30 Rock in Jay and Silent Bob Strike Back. The Cullens wrote/produced the pilot for the tv show Manchild in which Kevin Smith had a co-starring role (Showtime decided not to pick up the show). I've glanced at the script, and it definitely seems close to Smith's sense of humor. Also, it's not surprising to see Smith leave the Weinstein's, especially after the botched the marketing of Zack and Miri Make a Porno, which many agree could have been a higher grossing film with a better studio behind the publicity.