Overlooked: The Top 10 Best Performances Of 2008 That You May Not Have Heard About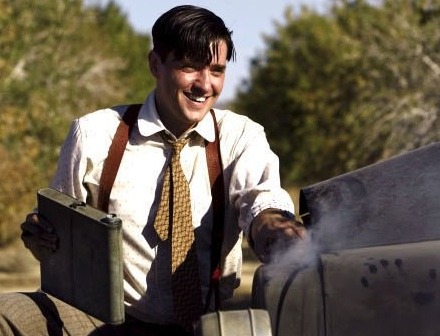 The Academy Awards for 2008 have been handed out, and the "popular kids" have Oscars on their mantles, but the dirty little secret about winning awards is that you've gotta campaign for them. Thousands of dollars were spent by the distributors and filmmakers behind Slumdog Millionaire (Fox Searchlight), Milk (Focus Features), The Reader (Weinstein) and other assorted winners and nominees, but not all performances received that sort of big money backing.
I am an unabashed lover of the acting craft. I see virtually every movie, large and small, that passes through the US marketplace, and, taking nothing away from Sean Penn, Kate Winslet, Penelope Cruz and Heath Ledger, not all of 2008's best performances have been recognized. I'm not going to be obvious here. Clint Eastwood was snubbed for Gran Torino, but he received lots of acclaim for the role including being named Best Actor by the National Board of Review. My goal is to highlight 10 performances from last year that have received virtually no acclaim in the US. Many of these roles can be found in hardly-seen, under-appreciated movies that came and went without much notice. Each and every one of these movies deserve a spot in your Netflix (or Blockbuster) cue.
My list is by no means definitive. If you have a favorite performance from 2008 that sticks with you, this is a great place to tell the world. There were 20 actors nominated on Oscar night, but there is a lot of great work that hasn't been recognized with a walk down the red carpet.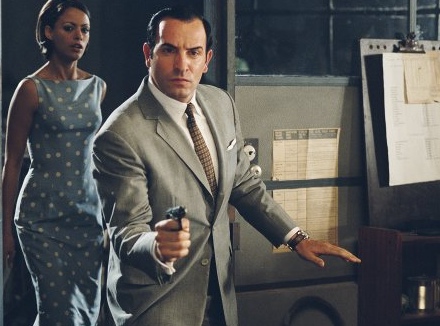 1. JEAN DUJARDIN, 0SS 117: CAIRO NEST OF SPIES
This was the funniest movie of the year for me. OSS 117, a reboot of a previously successful franchise, was a hit in France, but generated only about $300,000 in very limited engagements in the US. Dujardin is a James Bond-style secret agent who bumbles his way across the middle east with the panache of Sean Connery and the comic physicality of Peter Sellers. He was nominated for Best Actor at the Cesar Awards (French Oscars), but almost nobody saw Nest of Spies here. The sequel OSS 117: Rio Ne Repond Plus is due later this year. Steve Martin, who badly resurrected the Pink Panther franchise, should watch this movie with a deep sense of shame.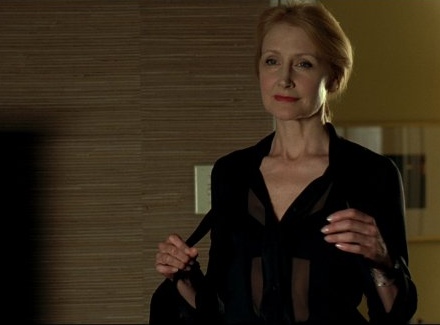 2. PATRICIA CLARKSON, ELEGY
Sold about $3.5M in tickets at American box offices. In many ways, Penelope Cruz's performance here is more courageous and luminous than her winning turn in Vicky Cristina Barcelona, but I am choosing to focus on Patricia Clarkson who brings a heartfelt honest to her small role. I am always impressed when a woman is unafraid to appear nude in a film, especially if it gives us a window into that character's soul. Clarkson is close to 50 and her character is maintaining a purely sexual relationship with Ben Kingsley's David Kepesh. She has no illusions about being young or being in love. She is settling for the occasional comfort of a tumble with this man, and sadly, her constant career demands make a permanent loving relationship a faraway idea.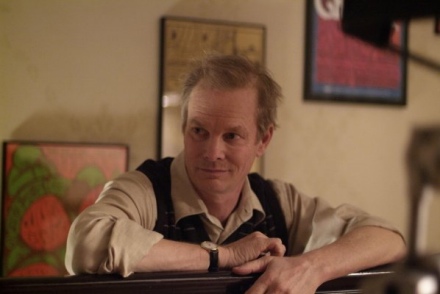 3. BILL IRWIN, RACHEL GETTING MARRIED
Loading a dishwasher has never been so dramatic. Primarily a theatre actor (he played George alongside Kathleen Turner in the 2005 Broadway revival of Who's Afraid of Virginia Woolf), he does something very different in Jonathan Demme's documentary-style Rachel Getting Married. He is the buttoned-down, peacemaker who is hiding a shattered emotional interior that comes forward in a remarkable scene in which he demonstrates how to correctly load a dishwasher. Oscar nominee Anne Hathaway and Golden Globe nominee Rosemarie DeWitt were both excellent, but Irwin's performance has stayed with me in a meaningful way.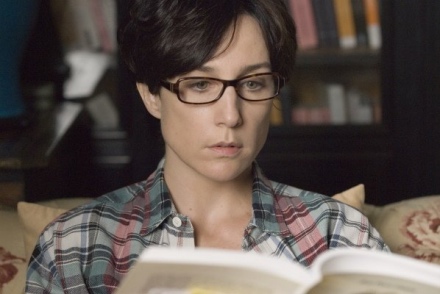 4. ELSA ZYLBERSTEIN, I'VE LOVED YOU SO LONG
This extraordinary French film from the masterful Phillippe Claudel features the luminescent-but-prickly Kristin Scott Thomas, who was nominated for the Golden Globe for Best Actress – Drama and many other awards. Elsa Zylberstein portrays the fully accepting sister who loves without any strings attached. She unwinds the mystery about why her sister committed a horrible act, and simultaneously remains patient and receptive. She allows for as happy an ending as this film can possible allow. Her soulful beauty softens the rough edges of Kristin Scott Thomas' Juliette.
5. CHIWETEL EJIOFOR, REDBELT
David Mamet does a movie about Mixed Martial Arts. Go figure. The master of dialogue practices jujitsu in real-life, and now he has found a way to incorporate it into one of his films. Chiwetel Ejiofer portrays Mike Terry whose mantra is that "There is always an escape." Some Hollywood types, played with the appropriate dollops of sleaze and smarminess by Tim Allen and Joe Mantegna, put him in an impossible situation, and he must find the escape. A buff Ejiofor delivers physically (easy to buy him as a badass), and he has a rigid sense of honor. His scene with Emily Mortimer in which she exorcises a past demon in worth the price of admission.
6. KARINA FERNANDEZ, HAPPY-GO-LUCKY
I love Happy-Go-Lucky. Writer/Director Mike Leigh takes a full year rehearsing and improving with his actors in order to finalize the script. He hit solid gold with Poppy, played by Sally Hawkins, who won the Golden Globe and, I assume, narrowly missed an Oscar nomination for Best Actress. The same can be said for Eddie Marsan as the anal retentive driving instructor Scott. But my shout-out here goes British stage actress Karina Fernandez who, in two short scenes, demonstrates her rigid and unbending love for the flamenco and that those very steps may be the only thing keeping her from becoming emotionally unhinged.
7. HAAZ SLEIMAN, THE VISITOR
So much of the lightness in Oscar nominee Richard Jenkins' turn in The Visitor is his reaction to the joyful drumming of Haaz Sleiman's Tarek Khalil character. His co-star Danai Jekesai Gurira is also wonderful, but something tells me that the Lebanese-born Sleiman will be heard from again. After drumming with reckless abandon at one point, Tarek realizes that he is going to be late and says his girlfriend will kill him because he's on Arab time, "It means I'm late by an hour. All Arabs are late by an hour, It's genetic. We can't help it."
8. CANTINCA UNTARU, THE FALL
The weirdest, most fantastical movie of 2008 was directed by Tarsem Singh, whose best-known previous film was the strikingly visual horror pic The Cell, starring Jennifer Lopez. This is a fable told by an injured, drug-addicted stuntman in the early 20th century who befriends a little girl. Lee Pace (brilliant in the 2003 film Soldier's Girl and also seen in ABC's short-lived Pushing Daisies) weaves a spectacular fantasy that plays out in the imagination of a little girl played by novice actor Cantinca Untaru. I love this movie, and I'm not alone. Roger Ebert wrote, "You might want to see this for no other reason than because it exists. There will never be another like it." Part Wizard of Oz. Part Lord of the Rings. 100% original. And it all works because of the innocence and spontaneity of a chIld actress before the camera for the first time.
9. KATE DEL CASTILLO, UNDER THE SAME MOON
She is absolutely beautiful and has a number of popular telenovelas to her credit including El Derecho De Nacer, Ramona, La Mentira and Imperio De Crystal before mading the jump to American television with the 2002 PBS series American Family from creator Gregory Nava (Selena, Mi Familia). This heartbreaking story of a little Mexican boy who decides to try to make it over the border to find his mother, working as a nanny and sending money home, is sweet and pulls at the heartstrings, and this Patricia Riggen movie also features a strong performance from Mexican comic actor Eugenio Derbez.
10. JASON BUTLER HARNER, CHANGELING
I did not like Changeling. I am a huge fan of Eastwood the director, and, for me, Angelina Jolie's performance was one-note, Jeffrey Donovan from TV's Burn Notice was doing a 1930's rat-ta-ta-tat dialect while Oscar nominee Amy Ryan (Gone Baby Gone) seemed to be playing it present day. As for the art direction, it's been done so much better in classics like Chinatown and more recent noir like L.A. Confidential. But, the reason to see the movie is Jason Butler Harner as serial killer Gordon Stewart Northcott. He conveys a certain cavalier smarminess when confronted with his evil deeds. He enjoys the infamy he has achieved and uses it to manipulate and torture Jolie's Christine Collins. Unsettling and unforgettable.
HONORARY MENTIONS
-in no particular order-
MILA KUNIS, FORGETTING SARAH MARSHALL
MISTY UPHAM, FROZEN RIVER
DON CHEADLE, TRAITOR
DAVID KROSS, THE READER
REBECCA MILLER, VICKY CRISTINA BARCELONA
JEFFREY WRIGHT, CADILLAC RECORDS
EVAN RACHEL WOOD, THE WRESTLER
DANNY MCBRIDE, PINEAPPLE EXPRESS
DOMINIQUE PINON, ROMAN DE GARE
TILDA SWINTON, THE CURIOUS CASE OF BENJAMIN BUTTON
PAUL RUDD, ROLE MODELS
RICKY GERVAIS, GHOST TOWN
ALAN RICKMAN, BOTTLE SHOCK