A Look At The JJ Abrams/Brett Ratner Superman Movie That Never Was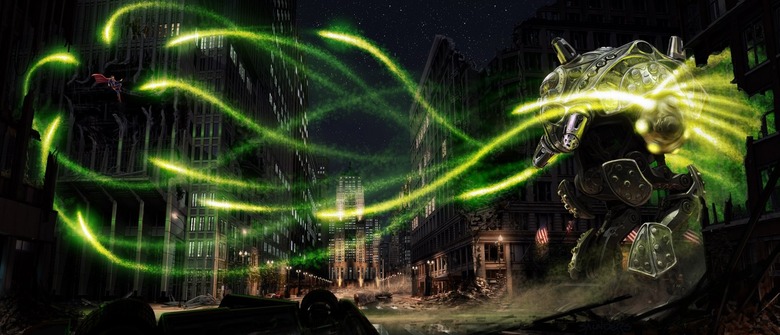 In 2002, JJ Abrams wrote a script which was supposed to be the first film in a trilogy of Superman movies. Aint It Cool once wrote that the script read "like it'll cost $400 million" and involved sequences featuring "air combat between five superpowered Kryptonians and fighter jets from 24 nations. Kryptonite missiles. Ass-kickin' on a level we've never seen before on film." A post-Matrix film project where Superman flies through the air fighting a villain using super-powered martial arts.
Over 30 pages of superfights, more action than 20 of Bryan Singer's Superman Returns. Superman dies but returns from the dead, and the mind-numbingly horrible reveal that Lex Luthor is actually a second son of Krypton, and also has superpowers. A disaster.  Brett Ratner was attached to direct, but the project eventually fell into development hell.
Apparently the project got far enough into development that illustrator Phil Saunders was creating concept art for the project for four months. Recently Saunders released a random image from the failed project on his blog, showing Superman facing off against a Kryptonian Battle Pod called a Rouser in Gotham City (yes, Gotham City). Saunders explained that Production Designer Owen Patterson wanted a straight one-point perspective view "so you could compare scale." Click on the image above to enlarge.
via: SuperPunch