Drew Barrymore In Talks To Direct The Twilight Saga's Eclipse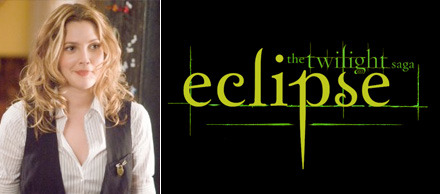 When it was revealed that Twilight director Catherine Hardwicke would not be returning to helm The Twilight Saga's New Moon, people were up in arms that Summit Entertainment was going to replace her with a male director (which came to pass). The theory is that the Twilight series is a great opportunity for female directors since the source material is targeted towards women. Also, replacing the highest grossing female director in history after the series became a success seems like a really bad political move.
Now Entertainment Weekly is reporting that Drew Barrymore is one of "a select group of directors" in talks to helm the third film in the series, The Twilight Saga's Eclipse. I'm not sure what to think of this considering we still haven't seen Barrymore's directorial debut Whip It!, but the actress turned director has made some interesting (Donnie Darko) and scary (Duplex) choices with her production company Flower Films. I do like the idea of Summit giving some women filmmakers a chance, because Hollywood's director's club is a sausage-fest. Too bad it has to be a project that will most likely be critically slammed.