Eddie Murphy To Play Richard Pryor In Bill Condon's Biopic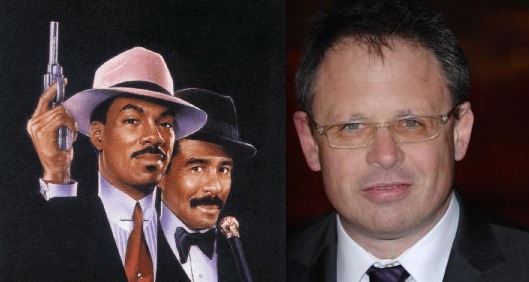 Bill Condon had his biopic Richard Pryor: Is It Something I Said? in development at The Weinstein Company, but they put it into turnaround so now Condon has attached Eddie Murphy as star and gone out to court the studios for a new deal. Condon previously threatened to relaunch Murphy's acting career (as in actual acting) with his Oscar nominated part in Dreamgirls – this was ultimately an idle threat, as it happens, but perhaps they'll follow through this time.
According to Nicole Sperling at EW, Fox Searchlight are definitely interested in the Pryor project though they have (zzz zzz zzz) refused to comment officially. By this time tomorrow we'll know more, I'm sure.
There's one particular story about Pryor that I'd absolutely love to see in the film, though it sadly doesn't seem entirely likely... let me tell you the tale now, anyway...
After Richard Pryor had given himself third degree burns all over by misadventure, and while he was still fresh from the hospital and riddled with stitches and scars, he took a booking to appear on the Tonight Show with Johnny Carson. He was apparently a real challenge for the makeup artists, but they did a good job and when he went out first he looked pretty darn good, all things considered. So good that, say, somebody who didn't know how much pain he was in or how fragile he was might not even notice...
Another guest that night was a light entertainer from the UK that my countrymen best know for three things: the way he died, the color of jelly he liked to eat, and the puppet Emu he forever had on his right arm. Rod Hull's act was simple – he went out with his puppet Emu, pretended it was a real bird, fielded benign and pointless questions on the bird's behavior and then – WHAM! – attacked them. His right hand, disguised as a colorful, cartoonish bird went in for the kill. It wasn't a sophisticated act, by any means, but he milked it for decades.
That fateful night, on the Johnny Carson show, Rod Hull showed that actually, he wasn't a boring, repetitive, hack from the bottom of the barrel of novelty turns. He was a fearless hunter of laughs. Because, that night, after attacking Carson for a while, Rod Hull and Emu set about Richard Pryor. Grabbing, grasping, poking, probing all up and down and all over Pryor. All over his fresh plastic surgery wounds.
Hilarious. And don't just take my word for it – instead of lying there limply bleeding, whimpering and ordering a hit on the lunatic with the glove puppet, Pryor commended Hull on his wild and gutsy routine, calling him one of the best acts he had even seen.
That's the way I've heard it, anyway.
By sheer coincidence, I was watching Strange Behaviour in bed last night, from the fantastic Synapse DVD. Scripted by Condon and directed by the massively undervalued Michael Lauglin, Behavior is a beautifully odd and gently surreal horror caper with an absolutely showstopping dance scene that I count amongst the greatest musical moments in all of cinema. If you haven't seen the film please do yourself a favor and get it up on the biggest screen you can, as soon as you can. And then, you know, invite me round to watch it with you.
Condon made his first turn as producer of the Oscars ceremony this past weekend and though the song and dance routines definitely weren't up there with Strange Behaviour's I was more than impressed by the complete package. The show managed to keep me pretty much locked in position throughout, and that was despite a) a far from ideal seating arrangement and b) my general lack of enthusiasm for the majority of nominees.
Footnote 1: I believe that Fringe's Bradley Caleb Kane also scribed a Richard Pryor bioscript but that one, I would assume, is now set for the knackers yard.
Footnote 2: If Eddie Murphy appears in the film, which is entirely possible, who should play him?