Box Office Tracking: Jonas Brothers Should Easily Win Weekend With Possible $30M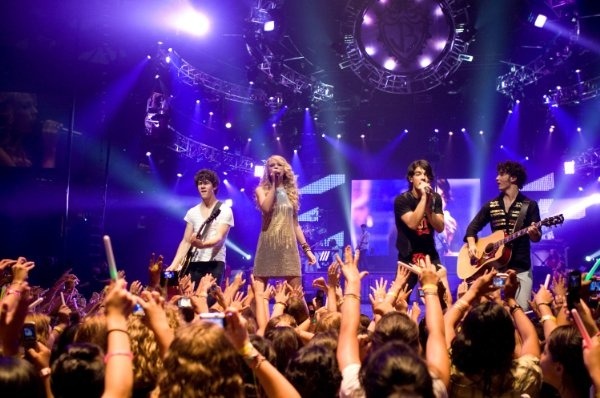 Tween girls will unite this weekend and transform Kevin, Joe and Nick into box office stars. Last year, Hannah Montana/Miley Cyrus: Best of Both Worlds Concert Tour ignited a box office wildfire with a $31.1M opening weekend despite only 683 3-D-equipped screens. Now Disney has the teen stars of the moment, Jonas Brothers, in the same sort of concert movie vehicle. The difference is that Jonas Brothers: The 3-D Concert Experience will open on about twice as many screens.
The precise number of 3-D screens is difficult to pinpoint. Last month, Lionsgate confirmed 1,033 Digital 3-D runs for the remake of My Bloody Valentine, and although I have not been able to confirm a hard number for Coraline (Focus), it was probably close to 1,100. Now, as the expensive $100K per screen digital conversion creeps along for exhibitors, Jonas Brothers could reach 1,200 3-D screens. Unlike Coraline, the new Disney concert movie will not be boosted by traditional 2-D 35MM playdates.
They have sold millions of records, packed them in at concerts across America, have a loyal fan base of screaming teenage girls, and they seem to be good kids. Their Dad is a former Assembly of God minister, and they were home-schooled by their folks. Famously, they wear purity rings, promising to remain virgins until they get married. When asked about the rings, 18-year-old Joe Jonas told Newsweek, "Our parents asked if we wanted to, and we were, like, 'Yeah,' so it's awesome."
As good practicing Evangelical Christian, these kids are tithing too. Jonas Brothers earned $12M in 2007, and they donated 10% to their Change for the Children Foundation, which offers support to other charities like St. Jude Children's Research Hospital and the American Diabetes Association (Nick Jonas was diagnosed with Type 1 Diabetes in November of 2005).
Tracking shows that the audience for Jonas Brothers: The 3-D Concert Experience will be almost exclusively Females Under 25 and their Moms, and this picture has a strong shot at a spectacular $25K per screen for a $30M opening weekend. Take that with a grain of salt because movie-after-movie has out-performed expectations this year.
Last week's #1 movie Madea Goes To Jail (Lionsgate) is in for a 60% drop from its meteoric start. The latest from Tyler Perry Studios will possibly add another $16.2M for a second place finish. Academy Award winner Slumdog Millionaire (Fox Searchlight) will sing Jai Ho as it pops to third place, up as much as 14% from Oscar weekend. The target for Danny Boyle's gutty, little Best Picture winner is $9.5M, which would push the $14M movie to almost $113M in the US.
Luc Besson's Taken (Fox) will crash through the $100M barrier on Friday and seems destined for #4 with about $7.25M, which would push this French action import to $105M domestic to go along with the $70M achieved in foreign markets. Meanwhile, the Jonas Brothers have stolen virtually all of the 3-D screens from Coraline (Focus). Henry Selick's spectacular stop-action animation instant classic will tumble a possible 50% to about $6M (a far cry from the more friendly 12% and 22% drops from the last two weekends). Still if my number hits, Coraline will have a new domestic cume of almost $62M compared to its budget of $60M.
The other new wide release is Street Fighter: The Legend of Chun-Li, which Fox has pared down to about 1,000 playdates, is a non-starter. According to pre-release industry tracking the video game adaptation seems headed for a sub-$5M start.
FINAL PREDICTED GROSSES FOR FEBRUARY 27-MARCH 1
1. NEW – Jonas Brothers: The 3D Concert Experience (Disney) – $30M
2. Madea Goes To Jail (Lionsgate) – $16.2M
3. Slumdog Millionaire (Fox Searchlight) – $9.5M
4. Taken (Fox) -$7.25M
5. Coraline (Focus) – $6M
6. He's Just Not That Into You (Warner Bros) – $5.1M
7. Friday The Thirteenth (Warner Bros) – $4.35M
8. Confessions of a Shopaholic (Disney) – $4.3M
9. Paul Blart: Mall Cop (Sony) – $4.2M
10. NEW – Street Fighter: The Legend of Chun-Li (Fox) – $4M
11. Fired Up (Sony) – $2.8M
12. The International (Sony) – $2.75M