Michael Cera Stops Holding Out On Arrested Development Movie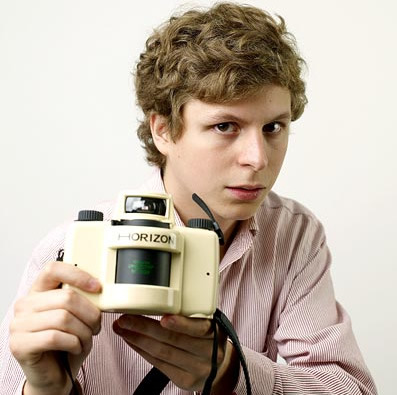 Nameless inside sources have apparently told E! Online's Watch With Kristin that Michael Cera has buckled and agreed to board the Arrested Development movie. I suspect the film would have happened in some fashion even without him, but this should make the fans happier and more optimistic at least. I like Michael. He's genuinely charming, I think.
The best bit of the story? A quote from Ron Howard, speaking on the Oscars' red carpet: "It's looking very much like we're going to make [the movie], but we've now been asked to stop offering any details. It's cloaked in a little mystery, but it's looking good." Yeah – they have been running off at the mouth an awful lot these last months.
Howard apparently dropped that zinger on Ryan Seacrest, but we in the UK didn't get to see much of Seacrest and had our own reps on the red carpet. Did they shame themselves as fully as he did? Nope, not quite.
MTV also spoke to Mr. Howard and while he said essentially the same things, he did add a few exclusive flourishes. For example, he told them that he met with Mitchell Hurwitz last Friday and that at the moment "Things are going really well. He's writing."
That's enough confirmation that the film is going to go ahead for me but I'll add a rumor tag to this post because it's all still just pillow carpet talk from Opie Richie Ron.
I would hope that the Arrested Development movie is brought in on a very responsible budget – aside from more recompense for the cast and crew, the main reasons such a film would ever cost much more per minute of screen time don't strike me as exactly respectable. A back end point deal would be a nice way to go with this, surely?
When it comes to possible upcoming TV to film adaptations, I'm all about the Veronica Mars, I'm afraid. Not even my little finger is about Arrested Development. Having said that, though, the more work Michael Cera, Jeffrey Tambor, Jessica Walter, David Cross and Jason Bateman get, the better. Toss in my favourite guest stars (a list which starts but doesn't end with The Winkler) and and we have a date.
I wonder if a Curb Your Enthusiasm movie will ever get proposed? Imagine the narrative tangles they could get that wild thing into over 90 minutes – it could be deliciously incomprehensible and break all known boundaries of good taste in narrative plausability.