Digital Crunch: Coraline May Be The Only Tween Girl Who Hates The Jonas Brothers?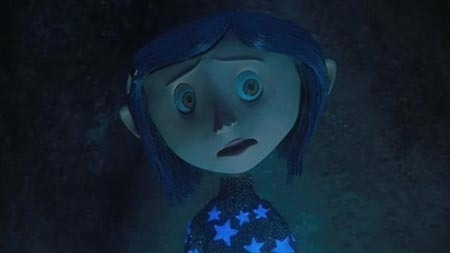 Most tween girls love the Jonas Brothers, but not the case for the animated eleven-year-old title character from Henry Selick's stop action animated 3-D masterpiece Coraline from Focus Features. Featuring the voices of Dakota Fanning and Teri Hatcher, the critics have swooned for this high tech gem (89% Fresh in Rotten Tomatoes), and audiences are just beginning to discover the charms of this $60M adaptation of the Neil Gaiman novel.
The film opened at #3 for February 6-8 with a better-than-expected $16.8M start. Then, the film enjoyed a nice surge over the 4-day President's Day weekend period ringing up another $18.8M in sales. Then, Coraline dipped a mere 23% over Oscar weekend finishing second overall with an excellent $11.28M for a new cume of $53.7M.
That should set up Coraline for another good solid couple of weekends, right? Wrong.
Henry Selick has created a movie that is a "native" 3-D experience. This is the first time that I have forgotten about the glasses and become immersed in a truly 3-D world. This utilizes the state-of-the-art technology not as a gimmick, but as a storytelling tool. There is just no way that Coraline in 2-D can possibly compare.
That's where the Jonas Brothers come in. Disney's Jonas Brothers: The 3-D Concert Experience will roll out on almost every 3-D capable screen in America this Friday, and it will push Coraline to 35MM 2-D at most of its existing playdates. Focus will miss out on those 3-D upcharges (most exhibitors are charging a premium price for 3-D presentation), and the momentum that Coraline has been building will be lost as it shifts to traditional presentation almost everywhere.
In order to show a movie in 3-D, a theatre must first upgrade from traditional 35MM to Digital Presentation, then add the relatively inexpensive Real-D 3-D component. Because the cost of digital conversion is about $100,000 per screen, the continuing credit crunch has slowed the digital rollout to a near-standstill at America's multiplexes. In most competitive zones, there is only one theatre offering Digital 3-D, and so when a new 3-D movie is released the current 3-D movie will get pushed to 2-D regardless of how the first movie is performing. In this case, the Jonas Brothers will be pushing the #2 movie in America to 35MM virtually from coast-to-coast.
Later in the week, I'll have final predictions for Jonas Brothers: The 3-D Concert Experience and Coraline, but as of now, I'm guessing that Selick's remarkable piece of work could drop as much as 50% in the upcoming weekend to something in the $6M range. If Kevin, Joe and Nick weren't landing Friday, there's no telling how much stronger little blue-haired Coraline could have performed.