Brendon's Watchmen Video Review And Interviews From The Premiere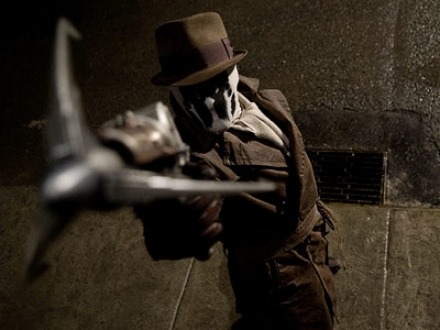 The World Premiere of Watchmen took place a few hours ago in London's West End and I was lucky enough to be there, on the yellow carpet, camera in hand and with Lying in the Gutters' Rich Johnston just to the side of me, taking pictures and asking odd questions. My video coverage of the premiere is below the break, as well my video review and more on the night's happenings.
As many of the cast and also Dave Gibbons, the comic's co-creator and illustrator, came by they graciously stopped a while at my little perch to answer a question or two. Things were being very professionally controlled by DDA PR, however, so there definitely wasn't any time for idle chit-chat and it was pretty much verboten to wander off topic.
I've edited the good stuff from the premiere together. You'll see Dave Gibbons, Matthew Goode, Jackie Earl Haley, Carla Gugino, Billy Crudup and Malin Akerman. They've got some interesting stuff to say, even when fielding the small-talk type enquiries from the other folk allowed to question them at my spot also. I was moved to fire off a text to my wife when the evening's proceedings were done: "Billy Crudup and Carla Gugino are beautiful" – and indeed they are, as well as being red-carpet-friendly and professional to the max.
If only this whole event had not started to run behind schedule, there would have been much more scope for fuller interviews. As it is, it's still pretty interesting stuff – particularly for fans of the comic and those among the /Film readership awaiting the film with baited breath. Which is, as far as I can tell, pretty much everybody.
The review embargo of Watchmen is just now lifted, so the video also contains the best bits (I think) from me reviewing the film in my living room. The person off camera I'm speaking to is Rachael, my wife who was extraordinarily patient to listen to almost an hour of solid discussion monologuing about one film. This has been cut down to just a few minutes here – but I think I cover the big points and should definitely give you my take on the big questions about this controversial, ambitious adaptation.
[flv:http://bitcast-a.bitgravity.com/slashfilm/trailers/watchmenbrendon.flv 470 264]
I'd like to thank WayToBlue and DDA PR for running the show so well and recognising that /Film's readers deserve access to events like this. It was an honor being there to bring the footage back for you.
Please note that the edit of this video had to take place over minutes, not even tens of minutes, in order to get this video up online while the premiere's after party would still be going on. There's nothing like striking early, is there?