2009 Academy Awards Winners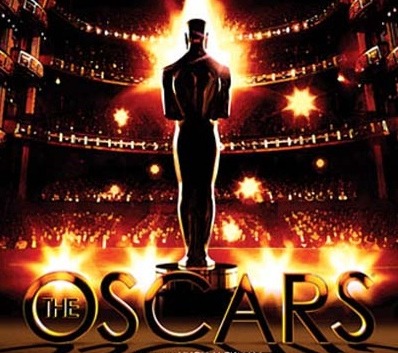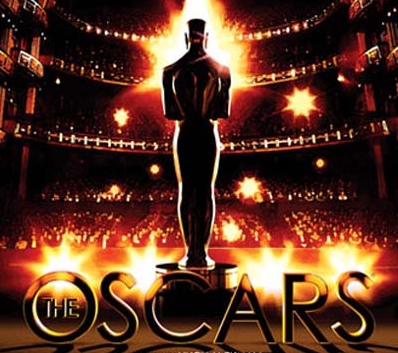 The 81st Academy Awards are now broadcasting live. Read our live blog of the award ceremony after the jump. For now, please leave your predictions in the comments below!
The show is about to begin. The band is playing, and host Hugh Jackman has been introduced. Jackman made a joke about the recession saying that next year he's doing a movie called New Zealand.His opening song and dance number is parodying all the nominees. I'm surprised to see Jackman bring up the point that the Academy didn't recognize The Dark Knight or comic book movies.Jackman pulls Anne Hathaway up on stage to do a Frost/Nixon number which is supposed to be unplanned, but obviously is art of the show.I'm really not digging the Broadway song and dance number, despite some of the funny jokes. I think I would have preferred a good comic monologue by a funny comedian instead.Jackman tells Rourke that they have a 7 second delay, but if he wins, they switch to a 20 second delay. Funny, but I wonder if this is true?


Best Supporting Actress
Amy Adams in Doubt
Penélope Cruz in Vicky Cristina Barcelona
Viola Davis in Doubt
Taraji P. Henson in The Curious Case of Benjamin Button
Marisa Tomei in The Wrestler
On Twitter Bretizzle says "I'm not feeling the ass kissing before the award is given." I'm pretty sure he was being sarcastic
Reading text from the screenplay while showing scenes from the original screenplay nominees sounds like a really good idea, but isn't as cool in execution.


Original screenplay
Frozen River, Courtney Hunt
Happy-Go-Lucky,  Mike Leigh
In Bruges, Martin McDonagh
Milk, Dustin Lance Black
WALL-E, Andrew Stanton, Jim Reardon, and Pete Docter
Milk had the weakest screenplay of the bunch, but won due to the film's politics (and I say this being a hardcore liberal living in San Francisco). WALL-E deserved to win but the Academy will never consider an animated film over a political one.


Adapted screenplayThe Curious Case of Benjamin Button, Eric Roth
Doubt, John Patrick Shanley
Frost/Nixon, Peter Morgan
The Reade, David Hare
Slumdog Millionaire, Simon BeaufoyThe first award of the night for Slumdog, and well deserved. I'm sure there will be quite a couple more. Jack Black explains how he makes a lot of money off animated films: Each year he takes all the money from his DreamWorks gig and bets it at the Oscars on Pixar. Extremely funny. Wonder if Jeffrey Katzenberg find it funny?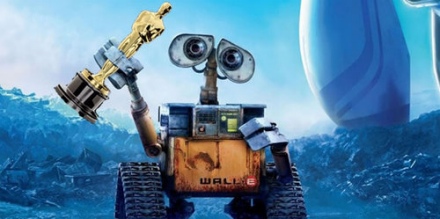 Best Animated Feature Film
Bolt, Chris Williams and Byron Howard
Kung Fu Panda, John Stevenson and Mark Osborne
WALL-E, Andrew StantonWow, Andrew Stanton definitely overprepared for his speech. He thanks his High School drama teacher for casting him in Hello, Dolly. Jack Black celebrating as if his film won was also quite funny. WALL-E Oscar photo thanks to FSR.Best Animated Short FilmLa Maison en Petits Cubes, Kunio Kato
Lavatory – Lovestory, Konstantin Bronzit
Oktapodi, Emud Mokhberi and Thierry Marchand
Presto, Doug Sweetland
This Way Up, Alan Smith and Adam Foulkes
Wow, Pixar lost and I thought Pesto was their best short if years. Has the academy gotten tired of awarding them an Oscar every year? You can watch the winning short film on YouTube: Part 1 and Part 2. Daniel Craig and Sarah Jessica Parker present the next award, which seems like an odd pairing. Alex Billington says to me in IM that it might be "Bond & Sex".


Achievement in Art Direction
Changeling, James J. Murakami, Gary Fettis
The Curious Case of Benjamin Button, Donald Graham Burt, Victor J. Zolfo
The Dark Knight, Nathan Crowley, Peter Lando
The Duchess, Michael Carlin, Rebecca Alleway
Revolutionary Road, Kristi Zea, Debra Schutt


Achievement in Costume Design
Australia, Catherine Martin
The Curious Case of Benjamin Button, Jacqueline West
The Duchess, Michael O'Connor
Milk, Danny Glicker
Revolutionary Road, Albert Wolsky
Isn't it always the period pieces that win costume design?

Achievement in MakeupThe Curious Case of Benjamin Button, Greg Cannom
The Dark Knight, John Caglione, Jr. and Conor O'Sullivan
Hellboy II: The Golden Army, Mike Elizalde and Thom Floutz
Second award win for The Curious Case of Benjamin Button. But will they win any above the line awards? Ben Stiller's impression of Joaquin Phoenix wasn't really that funny, but judging from the audience's laughter, you would think it was the funniest thing they've seen all year.


Achievement in Cinematography
Changeling, Tom Stern
The Curious Case of Benjamin Button, Claudio Miranda
The Dark Knight, Wally Pfister
The Reader, Chris Menges and Roger Deakins
Slumdog Millionaire, Anthony Dod MantleAnd the award for the most boring acceptance speech goes to...And now we have the roundup of the tech awards. Is Jessica Biel wearing a dress or a huge towel?And now we have a short film directed by Judd Apatow starring James Franco and Seth Rogen, reprising their roles from Pineapple Express, having stoner laughs at some of the films of the last year. Franco appears to be a big fan of The Wrestler's Necrobutcher. Great short film. They should have commissioned more directors to do these instead of the edited packages.Best Live Action Short FilmAuf der Strecke, Reto Caffi
Manon on the Asphalt, Elizabeth Marre and Olivier Pont
New Boy, Steph Green and Tamara Anghie
The Pig, Tivi Magnusson and Dorte Høgh
Spielzeugland, Jochen Alexander FreydankOh god... another Hugh Jackman song and dance number. I can't wait for the musical to go back out of style. Don't get me started on the inclusion of the High school Musical stars... ughhh


Best Supporting ActorJosh Brolin in Milk
Robert Downey Jr. in Tropic Thunder
Philip Seymour Hoffman in Doubt
Heath Ledger in The Dark Knight
Michael Shannon in Revolutionary Road
Heath did it! A lot of Dark Knight fans are probably jumping up and down right about now. Ledger's family is on stage to accept.Animated Zoolander photo via Playlist.Bill Maher presents the next award, and is probably the first person in history to make an Athiest statement on the Oscar stage. Hollywood is too fearful to clap because  they believe in Aliens named Xenu. I love Bill Maher, but they probably should have figured out beforehand that it would be a bad idea putting him on after Heath's potential win.
Best Documentary Feature
The Betrayal
Encounters at the End of the World
The Garden
Man on Wire
Trouble the Water
Best Documentary Short
The Conscience of Nhem En, Steven Okazaki
The Final Inch, Irene Taylor Brodsky and Tom Grant
Smile Pinki, Megan Mylan
The Witness, Adam Pertofsky and Margaret Hyde
The Jimmy Kimmel Live commercial featuring Tom Cruise was pretty good. The action montage was also pretty kick ass.

Achievement in Visual EffectsThe Curious Case of Benjamin Button, Eric Barba, Steve Preeg, Burt Dalton and Craig Barron
The Dark Knight, Nick Davis, Chris Corbould, Tim Webber and Paul Franklin
Iron Man, John Nelson, Ben Snow, Dan Sudick and Shane Mahan
Third award for Benjamin Button. And out all of the awards, this one was rightfully deserved. Even if you thought Ben Button was boring, you have to agree.


Achievement in Sound EditingThe Dark Knight, Richard King
Iron Man, Frank Eulner and Christopher Boyes
Slumdog Millionaire, Tom Sayers
WALL-E, Ben Burtt and Matthew Wood
Wanted,Wylie Stateman
Second award  for The Dark Knight.


Achievement in Sound Mixing
The Curious Case of Benjamin Button, David Parker, Michael Semanick, Ren Klyce and Mark Weingarten
The Dark Knight, Lora Hirschberg, Gary Rizzo and Ed Novick
Slumdog Millionaire, Ian Tapp, Richard Pryke and Resul Pookutty
WALL-E, Tom Myers, Michael Semanick and Ben Burtt
Wanted, Chris Jenkins, Frank A. Montaño and Petr Forejt
Third Oscar of the night for Slumdog, and I have a feeling there will be more.


Achievement in Film EditingThe Curious Case of Benjamin Button, Kirk Baxter and Angus Wall
The Dark Knight, Lee Smith
Frost/Nixon, Mike Hill and Dan Hanley
Milk, Elliot Graham
Slumdog Millionaire, Chris DickensThat was fast. Oscar number four for Slumdog Millionaire. Wow, there seems to be an uprising of "Slumdog haters" in the comments. I'm surprised because I actually agree greatly with the award's the film has won thus far. The Dark Knight is a great film, but it's poorly edited. For instince, what does Joker do with that one guy with the knife in the poolcue scene?Jean Hersholt Award to Jerry Lewis


Achievement in music written for motion pictures (Original score)
The Curious Case of Benjamin Button,Alexandre Desplat
Defiance, James Newton Howard
Milk, Danny Elfman
Slumdog Millionaire, A.R. Rahman
WALL-E, Thomas Newman
Fifth Oscar for Slumdog, and I think most people will agree with this one (although, I'm not sure, the backlash is big in the comments). The film has an awesome score.The Bollywood musical performance was much more entertaining than that last Hugh Jackman musical number.


Achievement in music written for motion pictures (Original song)
"Down to Earth" from WALL-E by Peter Gabriel and Thomas Newman
"Jai Ho" from Slumdog Millionaire by A.R. Rahman, Lyric by Gulzar
"O Saya" from Slumdog Millionaire by A.R. Rahman and Maya Arulpragasam
Sixth Slumdog Oscar.. I think this is officially a sweep, right? Twitter use granttoneck points out that AR Rahman is Ine of the biggest Selling Musical Artist in the world (probably in the top 25?). I knew he was big in India and Europe, but not that big.Best foreign language film of the year
The Baader Meinhof Complex (Germany)
The Class (France)
Departures (Japan)
Revanche (Austria)
Waltz with Bashir (Israel)
I think everyone expected Waltz for Bashir to win. This is the first big upset of the night.I would have loved to see the In Memoriam video montage in full screen and without the live song.

Best DirectorThe Curious Case of Benjamin Button, David Fincher
Frost/Nixon, Ron Howard
Milk, Gus Van Sant
The Reader, Stephen Daldry
Slumdog Millionaire, Danny BoyleThe seventh Academy Award win for Slumdog! I wish Aronofsky was nominated, but somehow he was overlooked.


Best ActressAnne Hathaway in Rachel Getting Married
Angelina Jolie in Changeling
Melissa Leo in Frozen River
Meryl Streep in Doubt
Kate Winslet in The ReaderPredictable...


Best ActorRichard Jenkins in The Visitor
Frank Langella in Frost/Nixon
Sean Penn in Milk
Brad Pitt in The Curious Case of Benjamin Button
Mickey Rourke in The Wrestler
Wow. I think everyone was expecting Rourke to take this one. Not that I disagree with Penn's awesome performance. I think I was just really excited for a crazy Mickey Rourke Oscar speech. Also, It was nice to hear Penn admit that he sometimes makes it hard for people to appreciate him.Steven Spielberg presenting Best Picture...

Best PictureThe Curious Case of Benjamin Button
Frost/Nixon
Milk
The Reader
Slumdog MillionaireAnd if it wasn't official, it is now. Slumdog Millionaire sweeps with eight total Oscar wins!