James Baxter Knows How To Train Your Dragon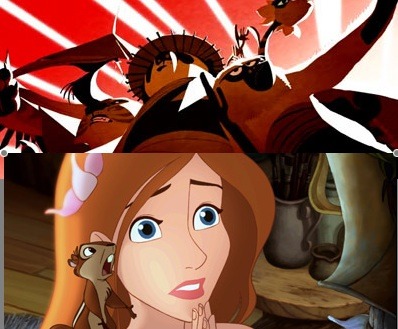 Animator James Baxter has given a great interview to today's LA Times. Coming under their Working Hollywood umbrella, the piece profiles Baxter, recounts much of his CV from Who Framed Roger Rabbit to Kung Fu Panda and beyond, and allows a peak into some of his personal working practices. For anybody remotely interest in the twin arts of hand drawn and CG rendered animation, I'd think this is a must read.
The latest project on Baxter's slate is Dreamworks' How to Train Your Dragon. The only director credited against the film on IMDB is one Peter Hastings and it isn't listed on Baxter's page at all, and the LA Times don't make it clear what role Baxter has on the film either but I'd surprised if he was just animating and not employed in some form of directorial capacity.
After the break, the official Dreamworks synopsis of How to Train Your Dragon – which I haven't seen out on the loose before – and some of the best bits of Baxter's interview.
The very same Copyright Registration Database that gave up the Shrek the Fourth details in a previous post has the following outline of the Dragon story hidden way for the sneaky to unlock:
DreamWorks SKG Presents How To Train Your Dragon. Produced by Bonnie Arnold Directed by Peter Hastings Cast: Jay Baruchel, Gerard Butler, America Ferrera, Jonah Hill, Christopher Mintz-Plasse
Synopsis: How To Train Your Dragon is a comic adventure set in the mythical world of Vikings based on the book by Cressida Cowell. The story centers around a scrawny teenager who lives in the North Sea on the island of Berk. His Viking tribe, the Hairy Hooligans, live, and all too frequently die, by their motto: Only the Strong Can Belong! Hiccup desperately wants to make his father, the Hooligans' chief Stoick the Vast and his tribe proud.
Initiation is coming, and all young Vikings must capture and subdue a wild dragon from Dragon Island. But when Hiccup is saddled with an undersized and uncooperative dragon, chances for impressing his tribe and his father look bleak. Yet, in his quest to train his dragon-of-choice, he teaches his father and all of the Hooligans a new definition of strength.
Dragon is due next year.
The animated prologue of Enchanted was not, you may be surprised to hear, created in-house at Walt Disney Feature Animation but at Baxter's own animation outfit, the functionally labelled James Baxter Animation. Those 13 minutes of enchanted Enchanted animation were really good stuff and absolutely jam packed with love for the style, history and icons of the Disney legacy. What happened to Baxter's indie company that he's now apparently working in-house at Dreamworks I don't know, but I hope it's not a sob story. Maybe he's just a sub-contractor, there to raise their game.
Here's Baxter on the 2D-come-pseudo-3D prologue sequence he created for Kung Fu Panda:
We use animation paper, which is the same kind of paper they've used since Snow White. It's just slightly see-through, so you can shine the light through it, and you can see all the drawings in sequence that you're working on.
So I could get going really fast, I would draw my drawings slightly rough, and then I would have a cleanup person come along and put a new sheet of paper over and do the final clean drawing over the top. So I had a couple of cleanup artists, a couple of painters who would do the color, a couple of compositors who would go in and put all the layers together with the backgrounds and camera moves and all that kind of stuff. There were about 10 of us altogether.
It's a great sequence and I have to say, I'm more optimistic about Dreamworks slate when I know they've got folks like Baxter and 3D supervisor Phil McNally on side. If they can only get one out of three of their films to a Kung Fu Panda standard I'll be amazed enough that I'll give them a grudging pass.
Editor's Note: More on James Baxter from the Kung Fu Panda production notes:JAMES BAXTER was born in Bristol, England in May, 1967, and he and his family moved to Bishop's Stortford six months later. He started experimenting on little animation tests with a 8mm camera at age 16. After a one-year art foundation course at Cambridge College of Arts & Technology, James attended the West Surrey College of Arts & Design. He studied animation for one year before leaving to work on "Who Framed Roger Rabbit?" with Richard Williams in London. James started as an in-betweener and finished as an animator.
In 1988, James moved to Burbank, California, to work at the Walt Disney Company. There he worked on "The Little Mermaid," "Rescuers Down Under" and "Beauty and the Beast," as well as the short, "Tummy Trouble." James took a two-year break to work in London at Passion Pictures and in San Francisco at Colossal Pictures, working on commercials for both. In 1992, James returned to the Walt Disney Company and served as a supervising animator on "The Lion King" and "The Hunchback of Notre Dame."
James made the move to DreamWorks SKG in 1996 and animated and supervised animation on six feature films, including "Prince of Egypt," "Spirit: Stallion of the Cimarron" and "Shrek 2." Since the beginning of 2005, James has been running his own studio, James Baxter Animation, in Pasadena, California. James Baxter Animation has produced several projects, including the hand drawn animation for the feature film "Enchanted" in 2007.