Teaser Trailer: Pedro Almodovar's Broken Embraces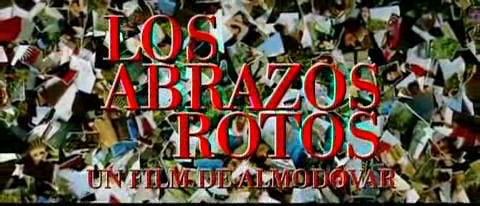 The newly arrived teaser trailer for Pedro Almodovar's Broken Embraces is a thing of beauty, elegance, wit, rich emotion and mystery – five of the top six items on the shopping list of any Pedro Almodovar fan. This gorgeous thing is about as good as teaser trailers get. There's nothing more I can hope to communicate that the trailer won't say far more effectively – and aside from the frame you see above, wordlessly.
If you only watch one video online through your computer this week, make it this one. I've positioned it below the break to save the servers from melting. The plot of the film is being kept under rather opaque and well secured wraps, but there's enough in the trailer to give you a clear indication.
Almodovar is deeply set amongst the greatest of all living directors, and even that funny Entertainment Weekly list from yesterday acknowledged that basic truth. For those of you that don't know his work, I wish I could throw you in a the deep end with a copy of Bad Education but I'd recommend paddling in slowly from Women on the Verge of a Nervous Breakdown or Volver. Go go gadget Netflix, right?
Having just seen her mussed-up and pouty in this trailer, I want Penelope Cruz to win her Oscar on Sunday even more than before.
After seeing The Wrestler I was absolutely convinced that Marisa Tomei had to win the best supporting actress Oscar this year. I even stomped about declaring that it would be a monumental injustice for her to lose, but knowing the Oscars she would lose because, basically, the Academy Awards are just a swap meet for monumental injustices. And then Penelope Cruz beat her to the BAFTA and, as much as I love Penny, I was quite dismayed.
Silly me – I was making a schoolboy error. I hadn't seen Vicky Cristina Barcelona at that point – we've really had to wait an incredibly long time for it here in the UK, an unfairly protracted period, through which I was even been taunted by one of my students who had seen it back home in the States (you know who you are, apologise now). But now that I have seen it and do love it, it seems to me that Penelope Cruz must win the Oscar. It will be a monumental injustice for her to lose. Here I go, stomping again but I feel 100% confident this time because now, I've seen all of the nominated performances.
Thanks to Nathaniel at The Film Experience for pointing me to the Broken Embraces trailer in the first place.