Stephen Fry Confirms His Turn As The Cheshire Cat In Alice In Wonderland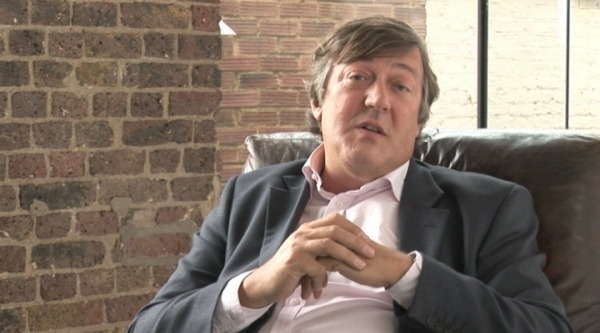 Back in January, when I was new to the /Film world, I posted a piece on the delicious thesp lineup of Tim Burton's Alice in Wonderland. A very dependable source had told me the odd little bit of unannounced, secret casting and even a couple of scratchy hints about the screenplay and how the film was going to variate from the books. Amongst this was the rather exciting fact that Stephen Fry was going to be playing the Cheshire Cat.
Fry himself has now confirmed this, in a chat with the BBC. He tells us, quite directly "I'm about to play the Cheshire Cat for an animated version of Alice in Wonderland."
Shooting is about to get up and running again in LA, with a plethora of tall extras apparently being sought by the production: so this explains Fry's "I'm about to" comment, even though the film started shooting months ago. The majority of the characters are to be realized with CG bodies imbued with motion capture performances by the cast: which explains his statement that the film is "animated". Its simply easier to understand or explain motion capture that way, at least to the layman.
The only other new information I've been given about Alice in Wonderland in the interim- and take this as a rumor, why don't you – is that Christopher Lee will be playing the Jabberwock and that Alice will have to face off against him. Allegedly, she'll even be brandishing a sword. How very... well, curious, I suppose I'd have to say.
Burton is controversially shooting the film's live action components in 2D, for conversion to 3D afterward. This has stoked the ire of many a 3D advocate, though not really myself. I can see that there is artistic application for this approach and, presuming very safely that Burton knows what he is doing, I expect this to pay off just fine in the finished product.
Is a weird choice, though. Like mixing an entire surround soundtrack out of mono originals.
Incidentally, fans of American McGee's Alice videogame – which has nothing to do with the film other than sharing the same source books – might like to know that a sequel has just been announced. C&VG have the news.