Box Office Tracking: Madea Goes To Jail Should Easily Win Oscar Weekend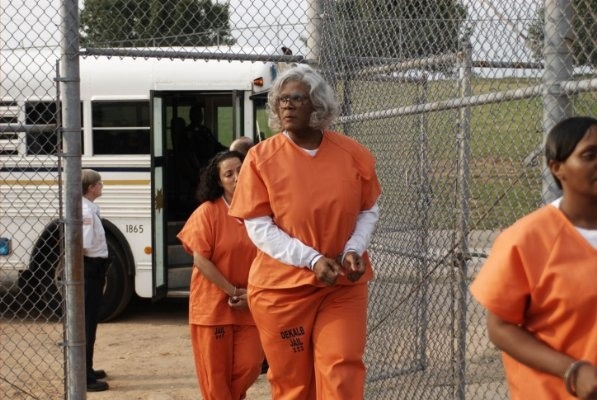 Filmmaker Tyler Perry, with Oprah Winfrey as a role model, has consistently outsmarted Hollywood moguls since his debut feature Diary of a Mad Black Women. That Gospel-infused "fat-suit-in-drag" comedy was made for a mere $5.5M and scored an opening weekend of $21.9M, ultimately generating $50.6M in domestic sales.
At only 39, Perry is building an empire. He officially christened Tyler Perry Studios last October in Atlanta with a star-studded event. The multi-million dollar project is a sprawling 30-acre working production facility in southwestern Atlanta, and the opening night party featured appearances by legendary African American actors like Sidney Poitier, Cicely Tyson, Ruby Dee, Lou Gossett, Jr. and Will Smith.
The 81-year-old Poitier, who won a hard-fought battle for his place in Hollywood with brilliant performances in films like Blackboard Jungle, The Defiant Ones, Lilies of the Field and Guess Who's Coming to Dinner, saw the importance of Perry's achievement. "I've spent 56 years in this business, and tonight is the reward," said the Oscar winner. "To see the people who have followed me and to see the success of the extent of this man is a real gift."
Not only does he produce, write, direct and star in his own movies, he also helps to finance them. His second movie, Madea's Family Reunion, was his biggest with a terrific $30M 3-day and over $63M domestic during its theatrical engagements. Like Diary of a Mad Black Woman, it featured Perry's outrageous Madea character. But even his non-"fat-suit-in-drag" pictures have performed well.
ALL-TIME TYLER PERRY OPENINGS
1. Tyler Perry's Madea's Family Reunion – $30M opening – $63.25M cume
2. Diary of a Mad Black Woman – $21.9M opening – $50.6M cume
3. Tyler Perry's Why Did I Get Married – $21.3M opening – $55.2M cume
4. Tyler Perry's Meet the Browns – $20.1M opening – $42M cume
5. Tyler Perry's The Family That Preys – $17.3M opening – $37.1M cume
6. Tyler Perry's Daddy's Little Girls – $11.2M opening – $31.3M cume
Who is Perry's audience? "It's about 50% Christian churchgoing. It depends on what part of the country I'm in," the filmmaker tells the Hollywood Reporter. "If I'm in the Bible Belt it's 90% churchgoing. If I'm up north in Newark it may be 30%, so it depends on where you are." He fine-tuned his characters doing live stage shows around the country. "I used to adjust the shows to where I am. If I was in the Bible Belt I made it more Christian, God-themed. If I was up north I could get away with saying 'ass' a little more. I would say 75%-80% women, 10%-20% men and about 5% children. What I've learned is you treat the women right and they bring everybody else."
Now in addition to his two TBS television series' Meet the Browns and House of Payne, he unleashes his seventh movie for Lionsgate this weekend, marking the return of his most popular character in Tyler Perry's Madea Goes to Jail. Industry tracking is remarkably unreliable when it comes to Perry's movies and Hollywood execs like to look down their noses at him, but my prediction is for a very solid $23M opening, which would mark the second-best 3-day start of his career, and more than enough to win the weekend.
Holdover horror pic Friday the Thirteenth (Warner Bros) will take a mighty tumble, down at least 60%, but it should still manage about $16.25M or so for its second weekend for Platinum Dunes. That will put Jason in second-place for Oscar weekend and give the slasher reboot a new cume of about $63M by Monday.
It will be a battle for third-place between rom-com He's Just Not That Into You (Warner Bros) and Taken (Fox). Both movies will be in the $10.5M range with the Drew Barrymore-produced Not That Into You likely just shy of $72M domestic, meanwhile the action import from France starring Liam Neeson will probably top $93M, and the Luc Besson written and produced action flick should surpass $100M by the end of next week.
Henry Selick's Coraline (Focus), a truly spectacular 3-D  experience from the genius behind Tim Burton's Nightmare Before Christmas, will likely reach a very solid $9.6M for 3-days, blowing past $50M in domestic sales.
Sony has a low budget non-starter on its hands as Fired Up, a misguided comedy about two high school football jocks who join an all-girls' cheer team, looks like a disaster in pre-opening tracking, and it will almost certainly be limited to about $5M or so.
FINAL PREDICTIONS FOR FEBRUARY 20-22
1. NEW – Tyler Perry's Madea Goes To Jail (Lionsgate) – $23M
2. Friday the Thirteenth (Warner Bros) – $16.25M
3. He's Not That Into You (Warner Bros) – $10.53M
4. Taken (Fox) – $10.44M
5. Coraline (Focus) – $9.6M
6. Confessions of a Shopaholic (Disney) – $8.2M
7. Paul Blart: Mall Cop (Sony) – $6.1M
8. The International (Sony) – $5.8M
9. Slumdog Millionaire (Fox Searchlight) – $5M
10. NEW – Fired Up (Sony) – $4.9M
11. Pink Panther 2 (Sony) – $4M
12. Push (Summit) – $3.56M